Do you want to rent an electric scooter in Malaga along with your rental? ✅ Keep reading and discover the best way to get around Malaga.
For a while now, some Spanish cities have seen a transformation due to a new trend in urban transport. The need for an ecological, cheap and practical vehicle has led to the revolution of the electric scooter, which has only just begun.
The Andalusian towns can be difficult to access due to its characteristic narrow streets. Some villages like Nerja, Frigiliana or Marbella have areas where, apart from walking, it is difficult to access.
If you travel to Malaga and the Costa del Sol and want to move around some areas of the city without having to look for a parking space for your rental car, we give you the perfect solution. Add a complementary electric scooter with your rental car in Malaga so you can enjoy the city to the fullest.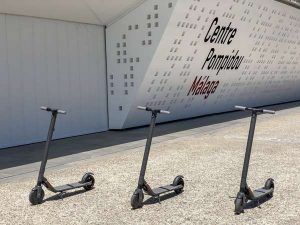 ---
---
Add an electric scooter when hiring your rental car in Marbesol
Book your electric scooter with Marbesol and enjoy the best electric scooter rental service in Malaga at the best price.
Select the dates on which you travel to Costa del Sol
Choose your rental car in Malaga with Marbesol
Add the number of electric scooters you want to rent along with your car rental reservation
Enjoy all the advantages of renting a car and a scooter during your stay
For only 7 euros a day when booking your car in Marbesol!
---
---
Advantages of using an electric scooter in Malaga
Next, we will review the main advantages of renting an electric scooter in Malaga:
Safety. Although there are many detractors of this type of vehicle, the reality is that it is a very safe way to move if we compare it with other vehicles such as the motorcycle and the car.
Technology. Since the electric scooters are in the market, they have been adding more and more technologies, reaching the point of being able to connect to the mobile device of the user who uses them.
Independence. The electric scooter offers the same independence of any other vehicle, which makes it a great alternative to urban transport in medium-sized cities such as Malaga, where distances rarely exceed 5km.
Low consumption. Its electric engine means significant cost savings compared to gasoline and diesel. All you need to charge your electric scooter is a plug.
Eco-friendly. In line with its low consumption, the electric motor does not produce the harmful emissions of the organic fuel engines.
If all these advantages have convinced you to rent an electric scooter in Malaga, then we tell you what to do next.
Segway-Ninebot – The best electric scooter
Not only we have a great fleet of rental cars, but also we offer you the possibility of renting one of the best electric scooters along with your rental car.
It is the Segway Ninebot ES2, a new generation of electric scooters with rear suspension that reaches 30km per hour and weighs 12.5kg. A perfect vehicle to travel around the city quickly and comfortably.
Price of adding an electric scooter with your car rental in Marbesol
If you decide to rent an electric scooter with your car rental in Marbesol, you will only have to pay a total cost of € 7 per day. What are you waiting for to get an electric scooter with Marbesol?
Unlike traditional scooter rental applications per hours, with Marbesol you can make unlimited use of your rental scooter for only € 7 / day, a much cheaper option.
If you need more information about our complimentary service of electric scooters in Malaga do not hesitate to contact us through our direct chat, by calling us on 952 234 916 from 8 AM to 11 PM or, by sending a consultation to our contact form.
You come to town and you don't want to miss anything? Check out our post about what to see in Malaga in two days. If you prefer move in bike, don't miss our post with some of the best biking roads spain.
Post evaluation on the rental of electric scooters in Malaga with Marbesol
Did you like our post about Rent an electric scooter in Malaga with Marbesol? Rate it!
---
Other posts you may like: