Biludlejning i Malaga uden fører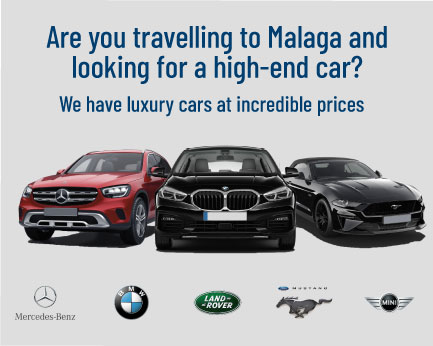 Den bedste biludlejning i Malaga uden fører
Leder du efter en biludlejning i Malaga uden fører? Med Marbesol får du uafhængigheden af at køre uden fører. Absolut autonomi garanteret. Alene, med en partner, familie eller venner, vil bilen blive en del af din ferie eller ophold i Malaga. Du kan bevæge dig rundt, som du har lyst til omkring Malaga, omegnen og resten af Spanien med total frihed.
Marbesol er en biludlejningsselskab i Malaga lufthavn og Marbella, som letter reservationen af køretøjer overalt på Costa del Sol, både for turister, der kommer for at tilbringe deres ferie og for lokale beboere i Malaga og omegn.

Fordele ved biludlejning i Malaga uden fører
Mobilitet, du kan tage hen, hvor du vil, og når du vil.
Autonomi, du vil være din egen chauffør.
Frihed, du kan rejse mere rundt uden at skulle stole på tredjeparter.
Personlig opmærksomhed til vores kunder.
Direkte og derfor billigere biludlejning i Malaga (ingen mellemmænd).
Gratis transfer fra/til lufthavnen (bagage inkluderet).
Fordele ved biludlejning i Malaga hos Marbesol
Dette er nogle af de meninger, som vores kunder har efterladt om Marbesol biludlejning i Malaga uden fører. Vi afventer din!
Kundeudtalelser om Marbesol biludlejning i Malaga - kommentarer og oplevelser
NILS JORGEN THOMSEN
Hurtig betjening og god service.
12/06/2019
Hans Christian Bærenholdt
Der er altid super hurtig og venlig service. Bilerne er i upåklagelig stand. Indtil nu det bedste biludlejningsfirma i Malaga Lufthavn.
20/03/2018
LEE-BARNES SUZANNE
marbesol always provide us with very good cars, there is a comprehensive choice of cars, the online booking is easy and efficient, the service is always excellent we would be very unlikely to change provider and would always be happy to recommend them to our friends and colleagues.
14/02/2020
DARREN GOLD
I have used Marbesol a few times now Collecting car easy just give your name to the person holding Marbesol card walk 80 yards if that to courtesy bus which takes 2 min to rental unit, wait for names to be called show licence pay for car an Off you go The staff are great I always get full insurance an on return the y check petrol level an of you go Easy service to use Great cars Definitely recommend
11/02/2020
ELLIOTT, STEVEN
This company is the absolute best I have ever used! We have used them now 5 times and we would never use anyone else, we would reccomend them to anyone with complete confidence of their service. They always have everything ready, no long waits or problems, always happy to do whatever they can to make your experience run smooth. They run the best customer service. I have never known a car company to be so effcient as Marbesol. Simply the best in Southern Spain. Dont know how they do it with so may cars in and out. Their staff are amazing always happy to help and assist with everything. Thank you Marbesol see you again soon
31/01/2020
HERMSEN GERARDUS HENDRIKUS
Rent directly from Marbesol for several years now. Very good service and with the all inclusive option you are optimally insured. Also sometimes a nice upgrade. Gerardus Hermsen
27/01/2020
OLSEN MICHAEL CZUBA
The best car hire company on Costa del Sol - Never had any problems and i have rented serveral cars there for the past year. Cheap Reliable and Honest.
27/01/2020
HARGURN JATINDER
We had booked a VW polo for 7 nights at a fantastic rate at Malaga airport. On arrival we were asked if we would like to upgrade the car for a additional 129 Euros. We agreed and was given a brand spanking new BMW X4. The service was tremendous from staff, shuttles from airport to office frequent and reliable. Would recommend to anyone wishing to book car in Malaga as I will definitely be using again.
03/01/2020
LEWIS MARK
I am extremely happy with Marbesol. I travel to Spain about 10 times per year and always rent with Marbesol. Friendly and helpful. Happy New Year
02/01/2020
THOMPSON, THOMAS ALLAN
smooth puck up from airport short time to wait for car free up grade as well . VERY PLEASE WITH SERVICE will use every time I visit spain.
13/11/2019
HOVE ODEGAARD ARNE JULIUS
We always use Marbesol when we are in Spain. Great service and help if something happend.
04/11/2019
MC QUADE CARL
Will definitely use next time I'm in Spain, although Range Rover wasn't ready when I arrived the staff were extremely helpful in offering a similar car for no extra. I decided we would wait until l car was ready and they gave me an extra discount. Great service and hassle free when dropping car back. Definitely go for their all inclusive option as it is the best around and gives complete peace of mind.
04/10/2019
På din næste tur, kan du stole på Marbesol og få en billig biludlejning i Malaga uden fører. Drag fordel af en af vores aktive kampagner og nyd Costa del Sol!
Vurder din biludlejning hos Malaga Marbesol