There are so many places to discover in the province of Malaga that our list would be immense, but now with the good weather we are in the mood for adventure plans, right? Today from Marbesol we want to make you a list of caves in Malaga so you can discover stalactites, galleries or cave paintings in the province. Are you up for it? Read on! ✅✅
Caves in Malaga
1. CUEVA DEL TESORO
One of the best known and most visited caves in Malaga is located in the area known as El Cantal, this cave was inhabited by prehistoric man. Did you know that it is the only cave of marine origin in Europe? Inside, various human and animal remains and pottery from the period known as the "Neolithic of the Caves" were found. Don't miss the room known as the Virgin's room, the Volcano room, the Marcus Crassus room and the Noctiluca room.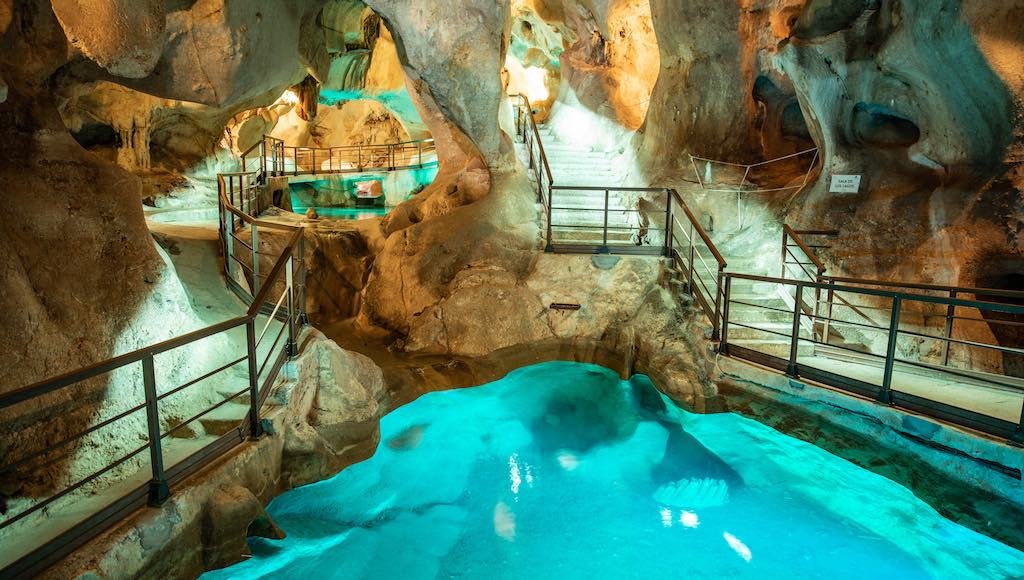 Comarca31
2. CUEVA DE LA PILETA
This cave is located in the municipality of Benaoján, do you like cave paintings? We have already told you that this cave in Malaga is a real wonder, inside you can see cave paintings from the Paeolithic period. The Cueva de la Pileta de Benaoján was discovered in 1905 by a farmer from this village, José Bullón Lobato. In these paintings the animals stand out, sometimes superimposed one on top of the other. Please note that it is necessary to book your ticket in advance. The price per adult is 8 euros and the entrance fee for children and students is 5 euros.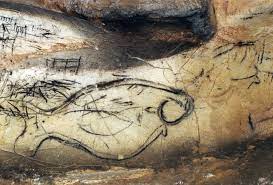 Diputación de Málaga
3. CUEVA DE NERJA
This cave is one of the best known, as it is the most visited in Andalusia. It has become one of the attractions of the province and we are sure that you have already seen some of the spectacular photos of it. It is located next to the village of Maro and was discovered by chance by some young people in 1959.
Nowadays, this cave in Malaga is 4823 metres long and 158 metres above sea level. You can see its spectacular geological formations of stalagmites and stalactites. It is also fundamental for the knowledge of prehistoric times, as organic remains associated with paintings dating back 42,000 years have been found inside the cave.
You can also enjoy different visits. There are several possibilities and visits for groups. You can find all the information about this cave in Malaga on its website.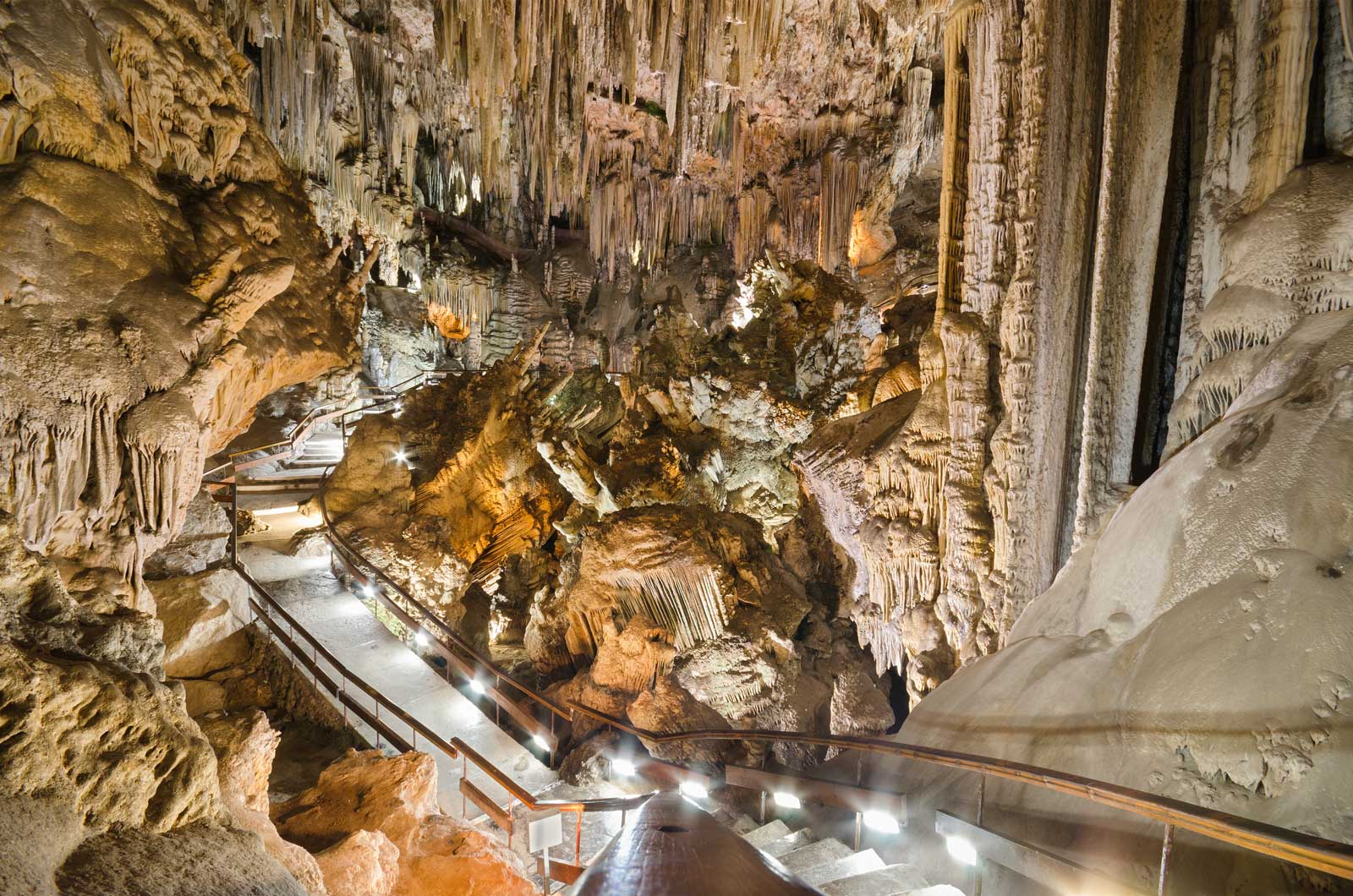 cuevadenerja.es
4. CUEVA DEL GATO
Like the aforementioned La Pileta cave, this cave in Malaga is also located in the municipality of Benaoján. It is located in the Sierra de Grazalema Nature Reserve, which is one of the most emblematic areas of the Serranía de Ronda. This cave has been formed by an underground river, the Gaduares. This river runs for more than 4 kilometres inside the cave.
At present it is not possible to enter this cave in Malaga without prior authorisation and the necessary equipment. But we warn you that the scenery is extremely beautiful, you can contemplate the great waterfall and a pool of crystal clear water that leaves the river at its entrance.
This area has served as a natural refuge for centuries, from the first settlers to the bandits of the 18th and 19th centuries.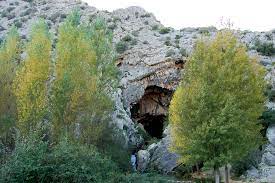 andalucia.org
5. CUEVA DE LA VICTORIA
Surely you have also heard of this cave located in Rincón de la Victoria. You should know that its use is very restricted, but you can see a replica of part of it in the Mediterranean Archaeological Park.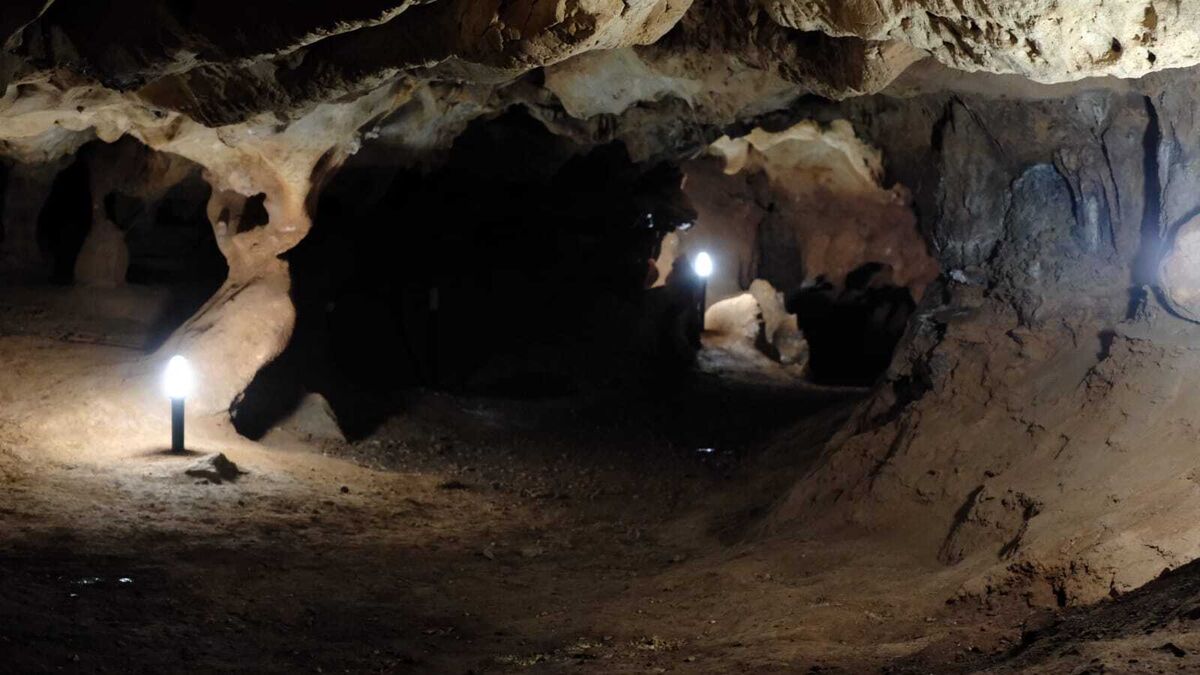 malagahoy.es
6. CUEVA DE ARDALES
Did you know that this cave in Malaga is the only archaeological site in Malaga included in the European Cultural Itinerary "Caminos del Arte Rupestre"? The truth is that this space has plenty of reasons, there you can see hands painted with the airbrush technique and signs made with the fingers, present in only a few sites around the world. As you can see, it is a unique place on the planet.
Please note that visits are very limited, so you will have to book well in advance. This allows them to preserve it as close as possible to when it was inhabited.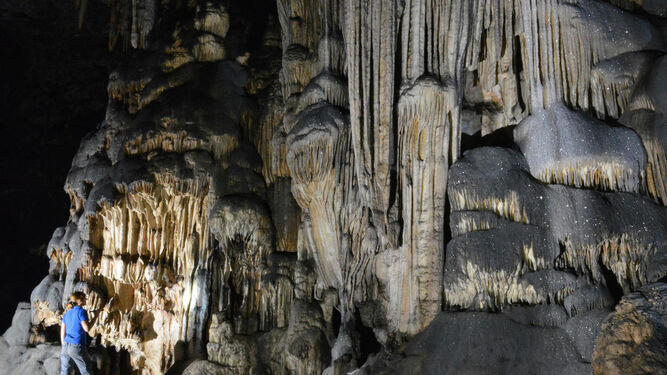 malagahoy.es
7. CUEVA BOQUETE DE ZAFARRAYA
This cave in Malaga is located in the municipality of Alcaucín, but very close to the municipality of Ventas de Zafarraya in Granada. Fossil remains of Neanderthals were found in this cave. These remains were found in 1983 and were a major milestone in prehistoric research. This cave in Malaga has become an emblem for the area of the Upper Axarquia.

malagahoy.es
As you can see, the caves in Malaga are extremely diverse, but each one is more beautiful than the next. Depending on whether or not you are travelling with children there will be some options more suitable than others. Have you already thought about how you are going to get there from Malaga? You can rent your car in Malaga with Marbesol and start enjoying your trip through the province. A stop at one of the best gastrobars in Malaga? We tell you all the secrets and best places in the city in our blog.
Did you like our post? rate it!
Did you like our post about The 7 most spectacular caves in Malaga? Rate it!
---
Other posts you may like: