Car hire in Malaga without driver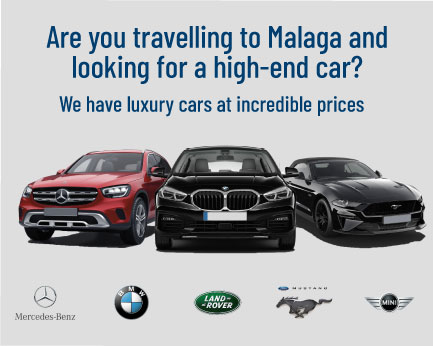 The best car hire in Malaga without driver
Are you searching for a car hire in Malaga without driver? With Marbesol you will have the independence of driving without a driver. Absolute autonomy guaranteed. Alone, with a partner, family or friends, the car will be part of your vacation or stay in Malaga.You can move at will around Málaga, surroundings and the rest of Spain with total freedom.
Marbesol is a car hire company in Malaga airport and Marbella, which facilitates the reservation of vehicles anywhere on the Costa del Sol, both for tourists who come to spend their holidays, and for local residents of Malaga and surroundings.

Advantages of car hire in Malaga without driver
Mobility, you can go where you want and when you want.
Autonomy, you will be your own driver.
Freedom, you can travel move around without relying on third parties.
Personalized attention to our customers.
Direct and therefore cheaper car hire in Malaga (no brokers).
Free transfer from / to the airport (luggage included).
Advantages of car hire Malaga airport with Marbesol
On your next trip, trust Marbesol and get a cheap car hire in Malaga without driver. Benefit from one of our active promotions and enjoy on the Costa del Sol!
Marbesol customer reviews – Comments and experiences
HARGURN JATINDER
We had booked a VW polo for 7 nights at a fantastic rate at Malaga airport. On arrival we were asked if we would like to upgrade the car for a additional 129 Euros. We agreed and was given a brand spanking new BMW X4. The service was tremendous from staff, shuttles from airport to office frequent and reliable. Would recommend to anyone wishing to book car in Malaga as I will definitely be using again.
03/01/2020
LEWIS MARK
I am extremely happy with Marbesol. I travel to Spain about 10 times per year and always rent with Marbesol. Friendly and helpful. Happy New Year
02/01/2020
THOMPSON, THOMAS ALLAN
smooth puck up from airport short time to wait for car free up grade as well . VERY PLEASE WITH SERVICE will use every time I visit spain.
13/11/2019
HOVE ODEGAARD ARNE JULIUS
We always use Marbesol when we are in Spain. Great service and help if something happend.
04/11/2019
MC QUADE CARL
Will definitely use next time I'm in Spain, although Range Rover wasn't ready when I arrived the staff were extremely helpful in offering a similar car for no extra. I decided we would wait until l car was ready and they gave me an extra discount. Great service and hassle free when dropping car back. Definitely go for their all inclusive option as it is the best around and gives complete peace of mind.
04/10/2019
BIGWOOD ROGER ARTHUR
Just returned to UK (14/9/19) after a week in Marbella and used Marbesol for the first time and could not fault every aspect of the service. The initial contact and short transfer was quick and easy, the lovely customer service lady was efficient and helpful providing a car upgrade at minimal cost!! The upgrade car was spotless and a quality manufacturer. My drop of took approximately 5/6 minutes from parking the car to arriving at the terminal departures, brilliant. 5 Stars all round and we will see you again!!! Cheers Marbesol Regards Roger
16/09/2019
MACPHERSON GORDON ALEXANDE
I have been using Marbesol Car Hire for many years, they simply offer the best value and customer service for car hire in the South of Spain, I always receive an excellent car, and happy to leave a very positive review, I don't look anywhere else.
13/09/2019
CRAIG SHARPE
had 2 9 seater vans from them now and always found them to have the best service and vehicles along with prices in the costa del sol
01/09/2019
BOURAS EIJA KRISTIINA
The best rental agency in Costa del sol. Easy to use, friendly, no hassle and best price. Loved them so much, that when moved to Spain, bought the car for their Marbesol used cars company. Nothing but good to say about them.
27/08/2019
MOHR JOHANNES KARL
very convinient fast and friendly. In 4 years we never had any problems
14/08/2019
STEPHEN ANTHONY CLARKE
Great 1st experience with Marbesol. Would highly recommend and certainly use again. Picked up from airport and taken to main office. Very easy and straight forward process. On returning the car, they then returned us to airport. Great customer service and car in excellent condition Many Thanks Marbesol
10/08/2019
Maki paul saito
I always use Marbesol when im in spain. Clean cars, friendly staff and a trouble free process every time. Will use again soon.
05/08/2019
These are some of the opinions that our customers have left about Marbesol car hire in Malaga without driver. We are waiting for yours!
Rate your experience with Marbesol