In recent years many people have decided to opt for a diet without meat or animal products, i.e. they are becoming vegetarians and vegans. Not eating this type of food is a decision that has many advantages, among them, it improves our mood, it can slim our body shape, it reduces the amount of toxins in our body and, perhaps the best of all, it advocates for animal rights. In the last few years many vegetarian restaurants have been created in Malaga.
Are you arriving or are you in Malaga and want to know the options to enjoy a tasty vegetarian meal? We give you a list of the best vegetarian restaurants in Malaga. 😉
Sometimes it can be a real odyssey to go out to eat out and find a good vegetarian or vegan restaurant, as there are many restaurants that do have an offer, but very few that have an elaborate and surprising menu. For that very reason, we have prepared a list of some of the best options or as some say, "Green Restaurants", which in our opinion are the best vegetarian restaurants on the Costa del Sol.
List of the 5 best vegetarian restaurants in Malaga
Cañadú
Located in the Plaza de la Merced. This picturesque vegetarian restaurant was founded in 1998, with the aim of bringing customers closer to a variety of healthy, varied, animal and environmentally friendly food, with organic and local products. All its dishes are suitable for this public. In its menu, it has numerous vegan and gluten-free options (certified by the Malaga Coeliac Association and by the Malaga gluten-free network). This vegetarian restaurant has a large terrace with a cosy and pleasant atmosphere.
Mediterranean cuisine and the flavour of Malaga are always present in its dishes, highlighting the ajoblanco, aubergines au gratin, cous cous with vegetables, croquettes, tripe with mushrooms and almonds…
The menu has been extended again after being reduced due to the confinement. From Monday to Friday there is also a daily set menu, consisting of 3 courses and dessert, at a price of 11 euros. Also, as a novelty, at weekends they offer suggestions of the day with new and genuine dishes, which change every week.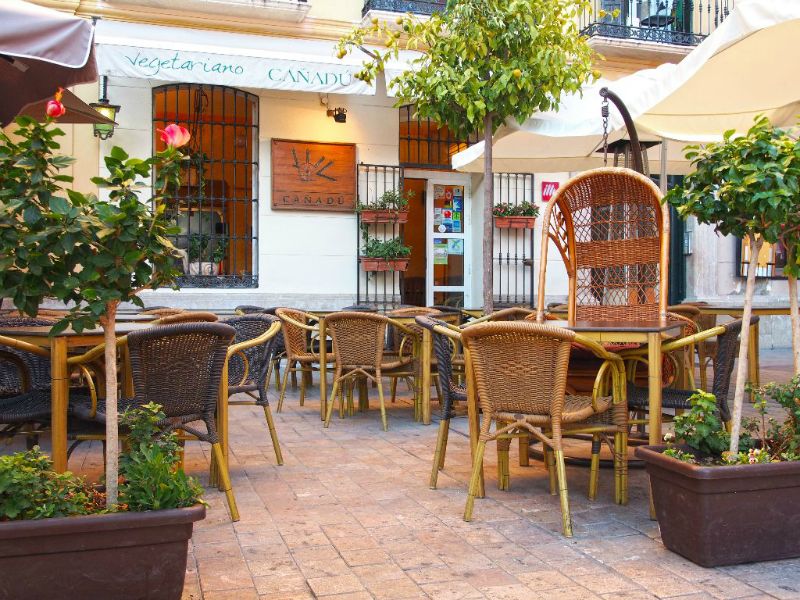 Eight. Malaga's most atypical vegan restaurant
Located in Calle Pedro de Toledo. This vegetarian restaurant was created with a clear commitment: to create a restaurant that brought together everything that was missing in other restaurants. The quality of this restaurant stands out for its traditional cuisine, constancy and transparency, different wines, the owners themselves and a service that takes care of every detail. Today, it is much more than a vegetarian Argentinean restaurant, the founders of Ocho consider themselves a "Gastronomic Cabaret", where you can't go in a hurry.
Their menu is made up of two proposals. On the one hand, traditional Argentinean cuisine, which includes Argentinean-style grilled meats, empanadas and dishes typical of this country in colonial times.
On the other hand, the signature cuisine, which focuses on foie gras, duck, vegan and vegetarian dishes. Halfway between the two, the seasonal suggestions: in September they presented the First Gastronomic Days of the Argentinean Arab Empanada, also known as sfija or fatay. The restaurant offers 6 varieties, 5 of them original recipes from the 50s, and a vegan version, this being the youngest recipe.
Although it may seem contradictory, in addition to being an Argentinean steakhouse, the menu also has a section called Vegetable Kingdom, made up of a series of dishes for vegans and vegetarians.
These dishes are composed of top quality raw materials, mainly organic and ecological vegetables.
Likewise, all the dishes are freshly prepared so that the ingredients do not lose their properties. The most representative and which have already become true classics are: Huevo de Toro tomato and pistachio pesto in summer version, combining tomato with shiitake in autumn/winter, asparagus tartar with avocado mayonnaise, traditional hummus or aubergine hummus, roasted aubergine guacamole and roasted aubergine millefeuille.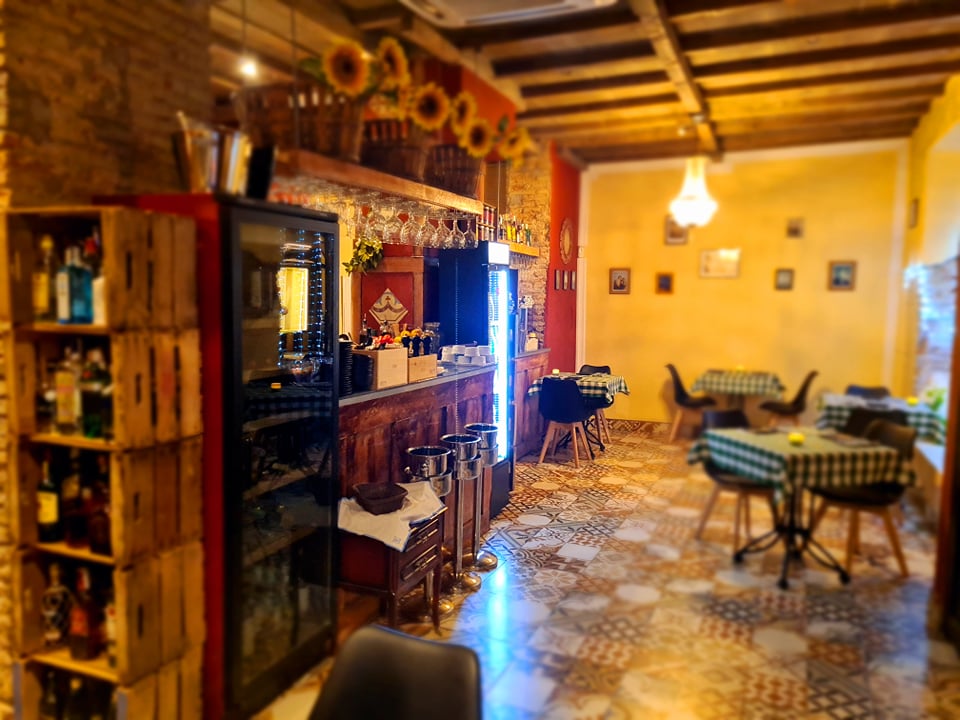 Recyclo Bike Café
Located in the Enrique Garcia Herrera square. It certainly offers a multitude of vegetarian and vegan dishes in Malaga. The peculiarity of Recyclo Bike Café, opened in 2014, is that it is half café/restaurant and half bike shop (like the shop they opened in the Pedregalejo area in 2005). The cafe opened with a fairly small and terse menu, but it has evolved over the years to the present day.
The menu offers breakfast for 3.50 euros, menú del día for 7 euros (containing 2 types of menus, one of which is always vegetarian), and various dishes for no more than 5 euros. They also have cocktails, international dishes, continental breakfasts and craft beer.
Vegan and vegetarian dishes include falafel pita, nachos with beans, hamburgers, manchego cheese sauce and guacamole with feta cheese.
Vegan dishes include hummus, guacamole, vegan meatballs, a seitan racó, sautéed vegetables and cane honey, vegan chorizo, burgers and potatoes or sweet potatoes with vegan sauces.
Vegan beers and plant-based milks for smoothies or coffee are also available, and many of the vegetarian dishes can be made vegan with a little modification.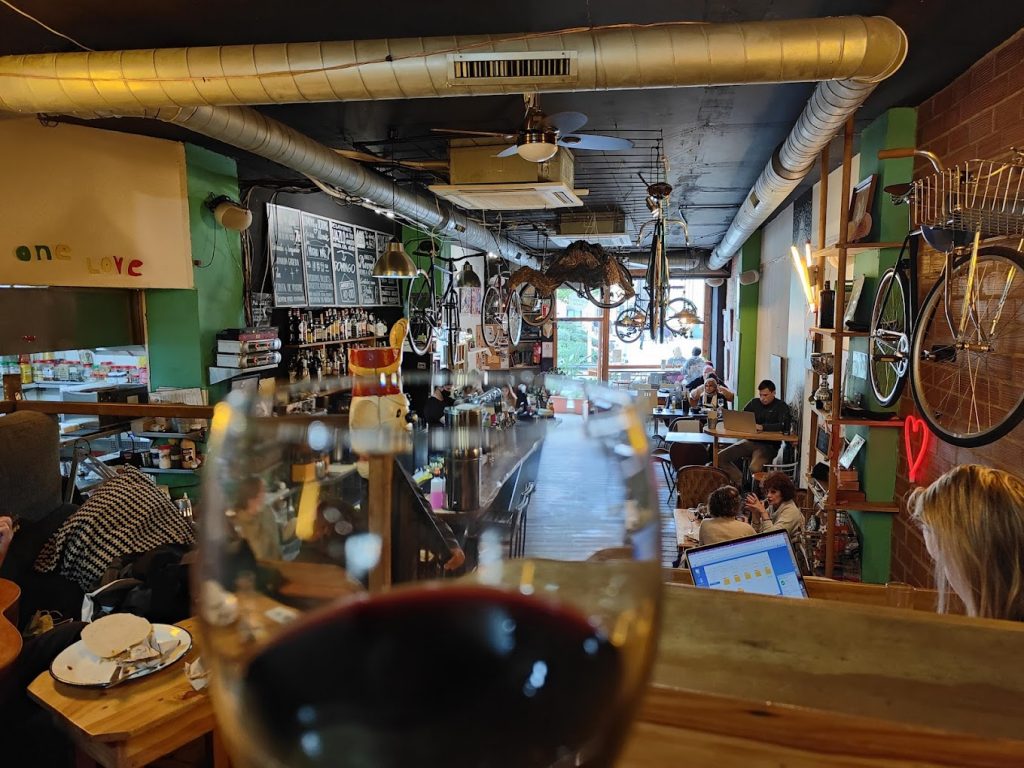 El Vegetariano de la Alcazabilla
Located in Pozo del Rey. A vegetarian restaurant with amazing starters that have become very popular with customers. The vegetarian restaurant in Alcazabilla has vegan, vegetarian and gluten-free specialities, working with natural, organic, seasonal and homemade products.
This vegan restaurant in Malaga has an extensive vegan menu, highlighting the combination of homemade pasta dishes, vegan mixed dishes and the famous combination of croquettes and burgers. The most popular starters include mushrooms in pil pil sauce, vegan paella, hummus and provoleta with chimichurri.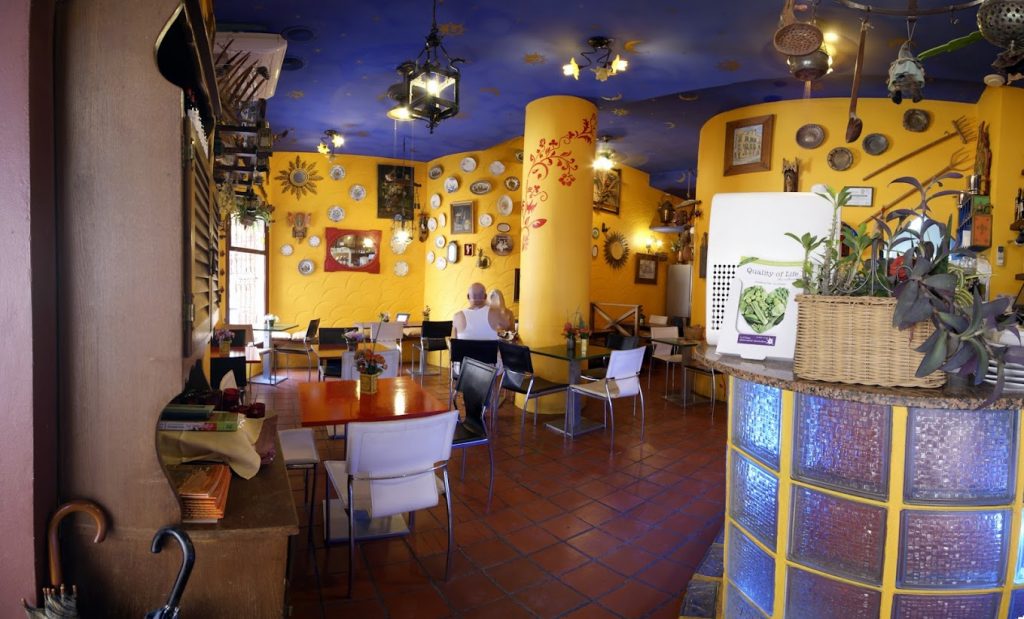 Estación Quimera
Located in Trafalgar Street. An exclusive vegetable take-away restaurant. Estación Quimera is a 100% vegetable and homemade food house that currently only offers food to take home. After more than 20 years of experience in this type of cuisine, they wanted to use the tools to create an exclusively vegetable cuisine and in this way try to show the city of Malaga that you can eat in a healthy, tasty, traditional and most importantly for them, in an ethical way.
This restaurant is based on a cuisine with traditional dishes but in a vegetarian version. They also add new dishes every week, which can be consulted on their website.
They have dishes ready to eat and others to finish at home, such as hamburgers, kebabs or croquettes.
Undoubtedly, the star dishes of this picturesque restaurant are: Pastela moruna, "bistec" with potatoes and chimichurri, leek and peanut croquettes, ensaladilla rusa, mushroom and chickpea tripe and "lomo" en manteca colorá.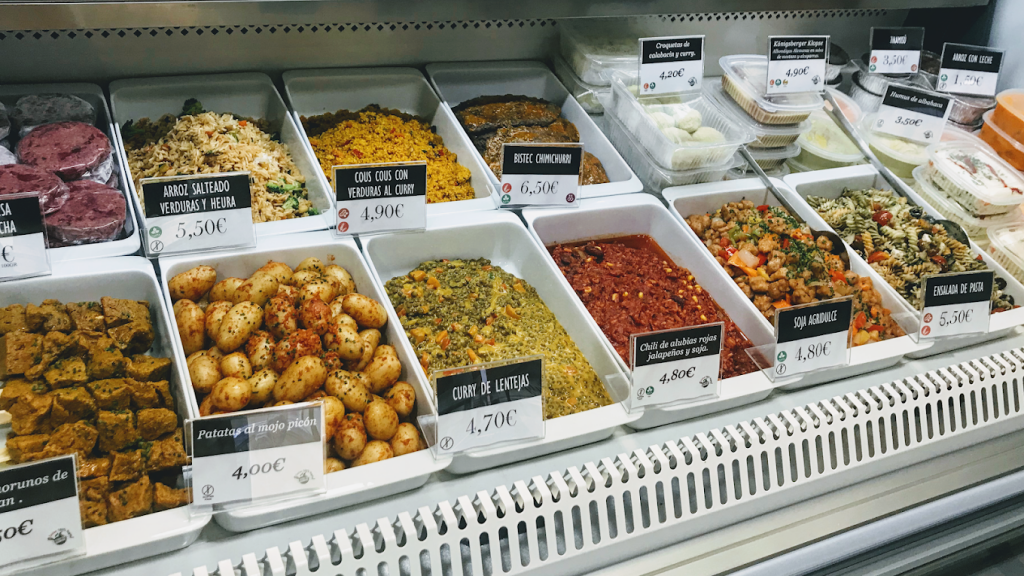 As you can see, the city offers many options for you to enjoy a vegetarian restaurant in Malaga. Would you like to discover the cave of Nerja? If you arrive at Malaga airport don't forget to hire your car and enjoy the Costa del Sol at your own pace.
Did you like our post about Vegetarian restaurants in Malaga? Rate it!
---
Other posts you may like: