Is summer coming and you do not know where to enjoy the beach without being surrounded by people? ✅ Keep reading and discover the quiet beaches near Málaga.
With summer come the visits to the beach to escape the heat and get the tan you've been waiting for all the year. Costa del Sol has 150km of coastline and, as usual, the beaches are flooded with locals and tourists.
Next, we will name the fewer crowded beaches of Malaga where you can spend your vacations and get away from the crowd.
Quiet beaches near Malaga – The coves of Maro
The cliffs of Maro-Cerro Gordo are famous for their steep scenery and marine life. Although its beauty is beginning to become known, the coves of Maro still do not have the same level of affluence as other beaches of the Province of Malaga.
The beaches of Maro are a place protected by their environmental value and marine fauna. Also, if you are travelling to Malaga and want to do diving activities or kayak routes, this is the perfect place.
The cultural and gastronomic offer of this region is also very diverse and, in the neighbouring towns of Nerja and Frigiliana, you can enjoy all the beauty of the white villages of Andalusia.
Cala Barranco de Maro
A beautiful cove of only 20 meters wide where you can enjoy a unique beach day.
Its difficult access makes it a little travelled, although it is necessary to arrive early to take a place since it is a very small beach.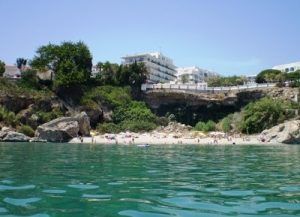 Source: Portaldetuciudad
La Caleta de Maro
La Caleta de Maro is a beautiful cove of 400 meters famous for being the stage of some of the episodes of "Verano azul", a popular Spanish tv show. It is a sandy beach located near the access to the famous Cuevas de Nerja and, as with other coves of Maro, its difficult access makes it a quiet beach in Malaga.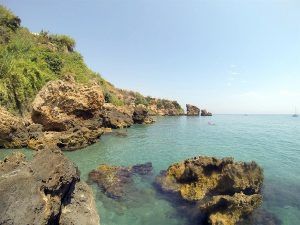 Fuente: Vacaciones-españa
Playa de las Alberquillas
A wide beach surrounded by a natural environment of great value that, as in all the coves of Maro, is endowed it with unique beauty.
During the warm winter of Malaga, it is also possible to enjoy this beach through hiking trails.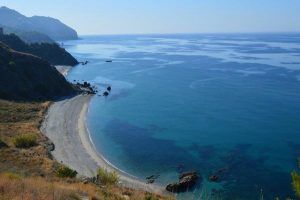 Source: Vacaciones-espana
Cala Torre del Pino
A steep rocky beach with difficult access and incredible beauty. Actually, it is 2 coves, although the second is only accessible by sea.
Due to its peculiar geography, it is usually quiet throughout the year. To get there it is recommended to wear sports shoes since the path is quite bumpy.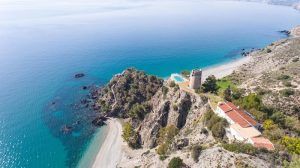 Source: Diputación de Málaga
Quiet beaches near Malaga – Cabopino, Marbella
Cabopino is without a doubt one of the wildest coastal regions of the Malaga coast. Its dunes of white and fine sand make it unique and, considering that it is only a few kilometres from the city of Marbella, makes it very accessible.
Very close to the beach there is camping where you can spend the night in one of its many bungalows or on a private plot with tents or caravan.
It is not one of the most hidden beaches of Malaga but, avoiding the months of July and August, the beach is not particularly crowded and offers a natural spot that is worth visiting.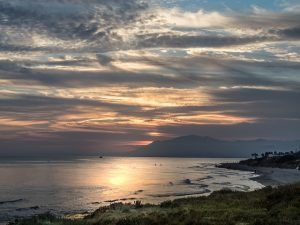 Source: Pixabay
Quiet beaches near Malaga – Playa de Torrox
The beaches of Torrox are not particularly beautiful, at least not like the coves of Maro and its crystal clear water. Despite this, they are still quiet beaches in Malaga where you can enjoy a good day on the beach away from the crowded beaches of the capital.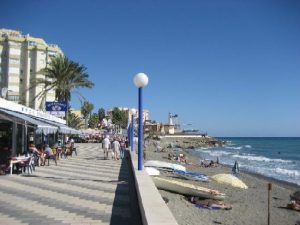 Source: Tripadvisor
Other beaches of interest in Malaga
During the week, the beaches of Malaga are usually quieter than on the weekend and, many of them, deserve a visit even though there are some people a few meters away enjoying the beach day.
Playa de Pedregalejo, Malaga
The beaches of Pedregalejo are famous for their history and for being part of the popular culture of Malaga.
Located on the seafront of Pedregalejo, in the western part of the city, they are a good way to get closer to the local life of the city and enjoy good restaurants and bars by the beach.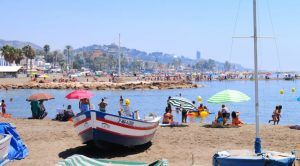 Source Voilá Málaga
Playa de Las Viborillas, Benalmádena
Considered one of the best beaches in Benalmadena, this intimate and small wild beach with dark sand offers a spectacular landscape of tall palm trees and abundant vegetation. In addition, it is a good place to practice diving, since it has an important marine life.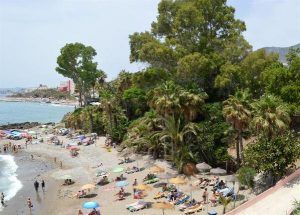 Source: Vacaciones-espana
Playa Punta Chullera, Manilva
This town, located very close to the border between Malaga and Cadiz, has white sand beaches and a peculiar mountainous land that makes it very special.
Considered one of the best beaches of the Costa del Sol, Punta Chullera beach is a very good option to spend a day at the beach with family or friends.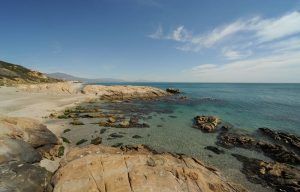 Source: Diputación de Málaga
We hope that this article about quiet beaches near Malaga has been useful. If you need more information regarding Costa del Sol, we recommend you to check other interesting articles such as free things to do in Malaga. Are you here to enjoy the Costa del Sol? Rent your car now and start enjoying the coast.
Rate this article about quiet beaches near Malaga
Did you like our post about Quiet beaches near Malaga? Rate it!
---
Other posts you may like: