If you're looking for a seaside town to spend your holidays in Andalusia, then La Cala de Mijas is the one for you. La Cala de Mijas has everything you're looking for and more.
In this blog you will find out what the weather is like, the activities you can do and what to see in Mijas if you get the chance to come.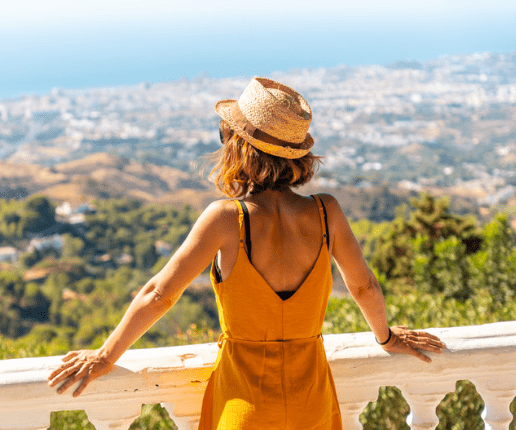 The weather in La Cala de Mijas
The weather in La Cala de Mijas is unbeatable. It is warm and sunny almost all year round with slight variations in the climate during the seasons.
In the summer you will enjoy temperatures ranging between 25 and 38 degrees Celsius, while in the winter the weather in Cala de Mijas is not cold and you will still enjoy the sun, temperatures rarely drop below 10 degrees.
On the other hand, if you like mild weather, consider booking your holiday for the spring and autumn months, as you will find very pleasant temperatures ranging from 15 to 25 degrees.
What to do in La Cala de Mijas
In La Cala de Mijas the last thing you'll do is get bored. The town has a wide range of activities for all the family, here are some of our favourite things to do in La Cala de Mijas.
Enjoy Mijas beaches
La Cala de Mijas has several incredible beaches that have nothing to envy to the caribbean. Each one has its own charm, so we recommend that you visit more than one.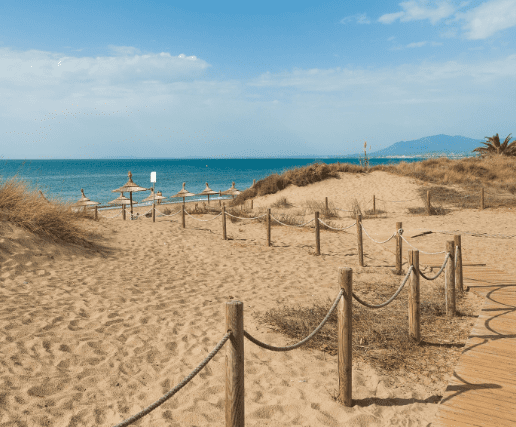 Cabopino beach
La Cala Beach
The most popular beach in Mijas, with more than 4.5 kilometres of beach with crystal clear water and golden sand, it is perfect for swimming and relaxing in the sun.
This beach has all the services you need for a perfect day at the beach: toilets, showers, shops, restaurants, beach bars and children's play areas.
Cabopino Beach
If you prefer quiet beaches with few people, don't forget to go to Cabopino. The beach is just 1.5 kilometres long, where you can relax on its dunes while enjoying its natural beauty.
You can get there by public transport, although we recommend you to go by car for convenience as the beach is slightly far away and has very limited services.
Calahonda Beach
Do you want to go to the beach by car? Calahonda beach will be your favourite, as it has a large parking area.
Located between Mijas and Marbella, the beach is more than 4 kilometres long, and just like La Cala beach, you will also find a wide variety of services at your disposal.
El Bombo Beach
The beach is only 400 metres long, although it lacks nothing, as it has a wide variety of services. The main characteristic of El Bombo beach is its relaxed family atmosphere.
Practice water sports in La Cala de Mijas
Another reason to visit La Cala de Mijas is the variety of water sports you can practice. I don't know which one is your favourite, but for sure in La Cala de Mijas you will be able to practice it:
Windsurf
Paddle Suft
Water-skiing
Jet Sji
Kayak
If you don't have equipment, don't worry, you can rent it. You can also take water sports courses if you need to.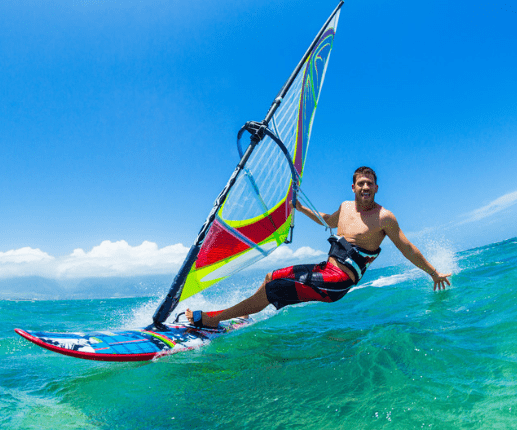 Boat Trips in La Cala Mijas
One of the best ways to appreciate the beauty of Cala de Mijas is by boat. In the port you can hire catamaran trips to see dolphins and swim in the sea, and there are also glass-bottom boats available for those who want to see the marine life without diving into the water. In addition, you can also hire private boats for a more exclusive experience to be alone with friends and/or family.
Golf in La Cala de Mijas
Golf in La Cala de Mijas is one of the reasons why the municipality welcomes thousands of tourists annually, as it is one of the most popular golf destinations in Europe.
Some of the most outstanding golf courses in La Cala de Mijas are La Cala Golf Resort, Miraflores Golf Club, Chaparral Golf Club, Calanova Golf Club and Santana Golf & Country Club.
All of them have 18-holes and unique natural surroundings. If you would like to know more about them, do not hesitate to suggest it in the comments.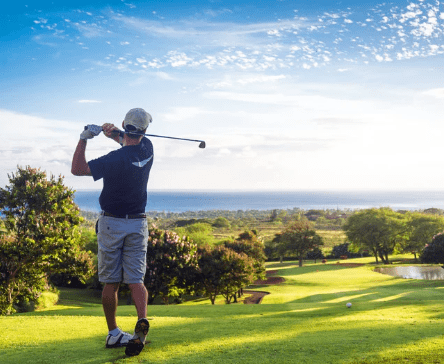 Hiking in Mijas
La Cala de Mijas also has a wide variety of hiking routes for all levels. Some of the most popular are the following:
Sendero de las Presas route
The route starts at the El Juncal dam and passes through beautiful landscapes of forests and olive trees, where you will find several viewpoints to the sea and the mountains. The route is ideal for new or inexperienced walkers.
Sendero de los Pescadores route
If you want a more challenging route, Sendero de los Pescadores is the one for you. The trail starts at La Cala beach and will take you through areas of pine trees and cliffs with stunning sea views.
Mijas Coastal Path
If you prefer quiet routes along the beach, you should visit the coastal path, a 6-kilometre route parallel to the sea where you can walk, run or cycle.
Sierras de Mijas Nature Reserve
The Sierras de Mijas Natural Park has numerous routes where you can discover the diversity of plants and animals in the area, we especially recommend the Ermita route.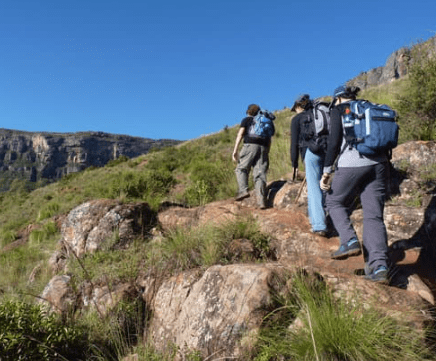 What to see in La Cala de Mijas
Both in La Cala and in the municipality of Mijas and its surroundings you will find numerous tourist attractions that will not leave you indifferent. If you are planning a trip to La Cala de Mijas, don't leave without visiting:
The old town of Mijas Pueblo
The old town of Mijas Pueblo is a labyrinth of cobbled streets and whitewashed houses dating back to the 17th century. Strolling through its narrow and beautiful streets you can discover the church of the Inmaculada Concepción, the Plaza de la Constitución and the Plaza de la Virgen de la Peña.
If you are interested in visiting museums, don't miss the Museum of Miniatures and the Wine Museum.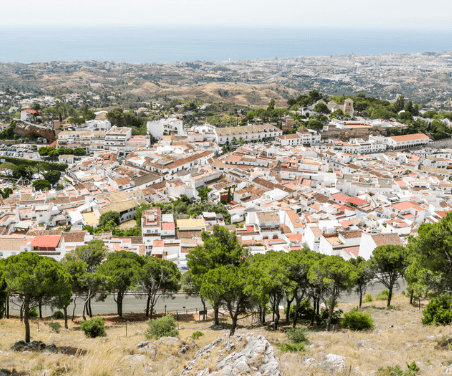 Virgen de la Peña Chapel
Virgen de la Peña is an unique sanctuary, as it is a small chapel dating from the 17th century built on top of a rock. From the chapel you can enjoy breathtaking views of the village and the sea.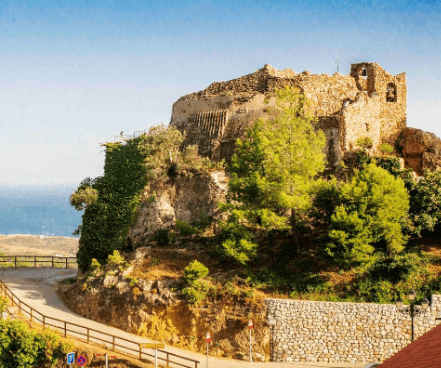 Cala de Mijas Tower
The Tower is one of the best preserved towers on the coast of Malaga. In case you didn't know, between the 16th and 18th centuries numerous watchtowers were built to protect the coastline of the Costa del Sol against pirate attacks from North Africa.
Despite being small, it has a lot of charm and you can learn more about the rich history of the municipality in the museum that is housed inside.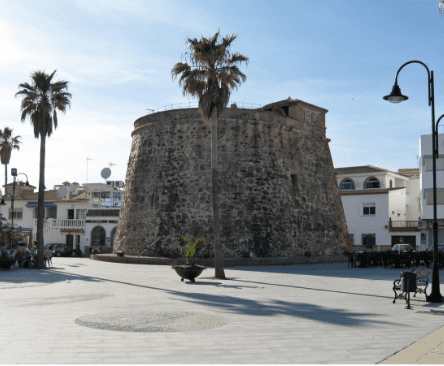 As you have seen, La Cala de Mijas is an incredible destination to spend your holidays at any time of the year. Although you may also be interested to know what Benalmádena has to offer.
Undoubtedly, every city in Malaga has something that will surprise you. That's why we always recommend tourists to rent a car in Costa del Sol to make the most of their holidays in our beautiful province.
Have you found the blog useful? Rate it! 🙂
If you want to know more about the places you should visit if you come to Malaga, do not hesitate to keep an eye on our blog and follow us on Facebook and Instagram, we publish daily recommendations to make your trip perfect.
Did you like our post about La Cala de Mijas? Rate it!
---
Other posts you may like: