Many people visit the city of Málaga during the All Saints' Day. Not only to visit the cemeteries and share many traditions rooted in the city for centuries, but also to enjoy the well-known Halloween party in Malaga.
Shops, bars, restaurants, and other establishments adapt their premises these days to make them "terrifying" places.
In a few days, Halloween is celebrated and there are some things you can not miss.
Halloween in Malaga – Tivoli World
The Tivoli World amusement park in Benalmadena organizes activities to celebrate Halloween in Malaga. This park has chosen two weekends to enjoy with the family. So on Saturdays 12, 26 and 29 October and Sundays 13, 20 and 27 if you come in a Halloween costume the entrance is free. You can find many costume shops in Malaga to dress up that day!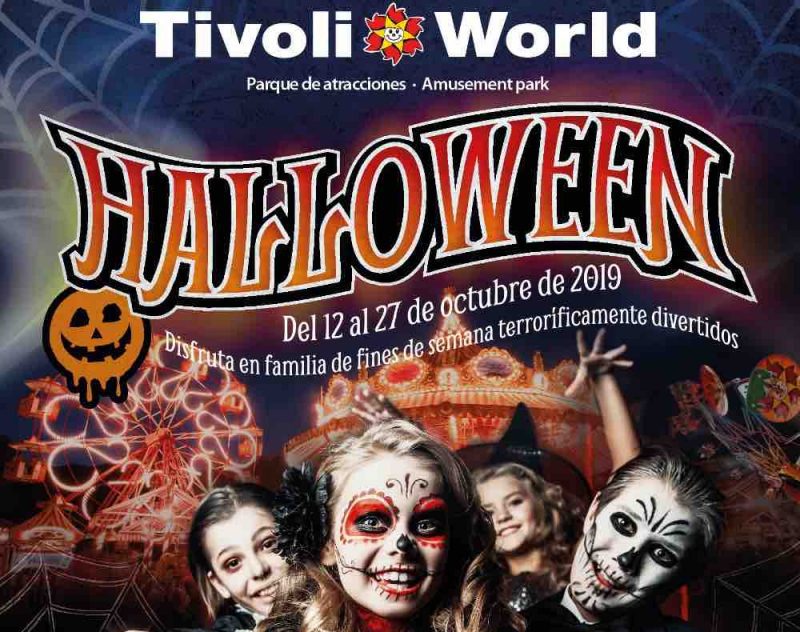 ladiversiva.com
Halloween for children at the CC Rosaleda in Malaga 
Rosaleda shopping center celebrates its Halloween party for children on the afternoon of Thursday 31 October. Children from 2 to 12 years old will be able to enjoy a free workshop with storytellers accompanied by an adult.
The CC La Rosaleda will offer 3 different passes of approximately 30 minutes.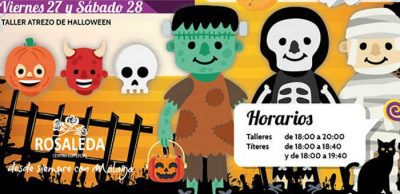 ladiversiva.com
Halloween Costume and Activity Contest at Muelle Uno
Halloween in Malaga is for the whole family! Muelle Uno organizes several free activities for young and old to have a terrifying time. These activities start at 5 pm and end at 9 pm.
You don't have to register for the costume contest, it will start at 7 pm on Thursday 31st. The categories to participate are individual, family, baby and "the most motivating".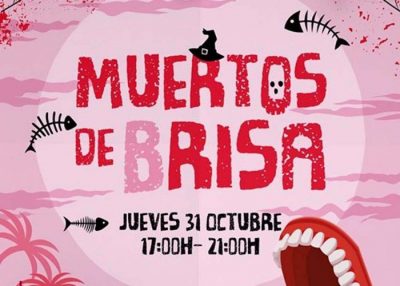 muelleuno.com
Halloween in Vialia Malaga
The Vialia Shopping Centre has a children's space called Recrealia, where every weekend it organizes different free activities for children. This year with the motive of Halloween in Malaga has prepared a workshop and storytelling on Halloween for children from 3 to 12 years.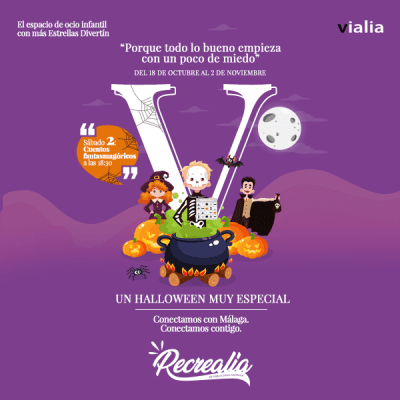 vialiamalaga.es
Halloween for kids at Club Happy Málaga
This club has chosen the theme of the Transylvania Hotel. This space is located in El Corte Inglés on Avenida de Andalucía and on Thursday 31 October it will be transformed into the Hotel Transylvania to make the youngest enjoy themselves.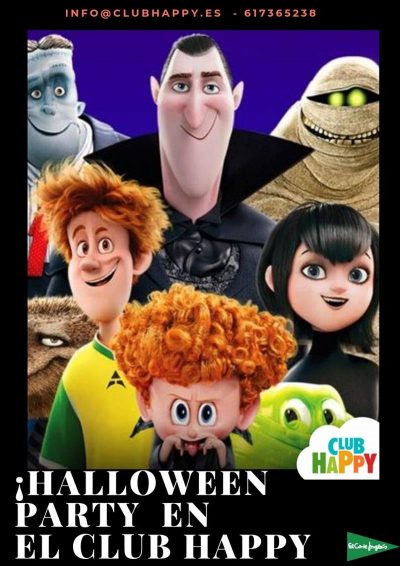 escapadasdelsur.com
Free entrance to the airplane cabins of the Aeronautical Museum of Malaga on November 1st.
On 1 November, All Saints' Day, the Malaga Aeronautical Museum opens the cabins of its airplanes so that children and their families can have access from 10 am to 2 pm. A different Halloween in Malaga 2019!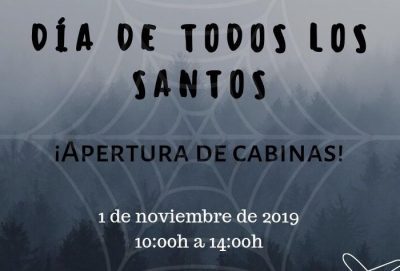 ladiversiva.com
The Imaginary Machine in Miraflores (Malaga)
La Máquina Imaginaria organizes together with the Town Hall of Malaga in the Colegio Gibraljaire of Bailen-Miraflores (Gibraljaire School of Bailen-Miraflores). The event will be from 19 to 21 hours and families can enter a real passage of terror, which will have several areas.
They have also organized a masks workshop with a photocall and a costume competition, without a doubt a very different Halloween in Malaga 2019!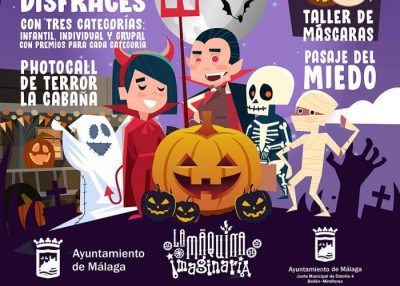 La Diversiva
Visit the Botanical Garden of La Concepción in Malaga
This is probably one of the most anticipated plans. On this day, the Concepción Botanical Garden organizes a "terrifying" activity to celebrate Halloween as a family. This Halloween event in Malaga will be on Thursday 31st October and consists of a dramatized night visit, so you can attend in disguise.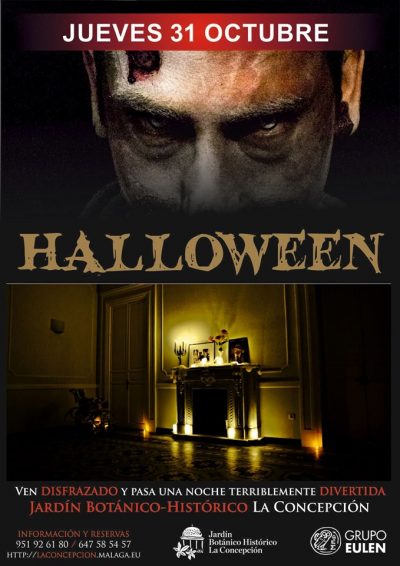 escapadasdelsur.com
Gymkana at sight at the English Cemetery in Malaga
Another of the Halloween activities in Malaga 2019 is held in the English Cemetery, which organizes a nocturnal gymkhana that will allow you to enjoy yourself and the youngest of all the mysteries housed in this English Cemetery. The aim is that children over 10 years old can learn about the different stories of one of the oldest cemeteries in the city of Malaga. During the gymkhana, participants will have to look for cultural clues related to the people buried in the Holy Camp.
Although Halloween is an Anglo-Saxon holiday, in all cultures the deceased are honored – we hope you liked the proposals for Halloween in Malaga!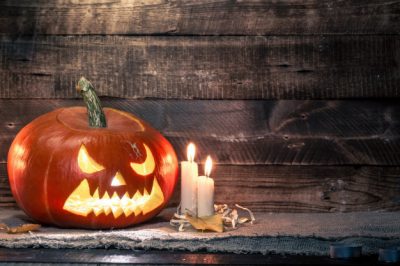 ¡Curiosities of Halloween!
In addition to giving you information about Halloween in Malaga we want you to know some curiosities about this party.
Halloween Curiosities – Origin 
Did you know that contrary to what people think, this tradition is European? Specifically Celtic. It was the Irish immigrants who brought this celebration to the American continent. This tradition has been changing to disguises, sweets and terrifying monsters!
Halloween Curiosities – Celts already believed in ghosts
On Halloween night the Celts disguised themselves and wore masks to chase away evil spirits. Hence the number of costumes we can find today. There are many costume shops in Malaga that these days sell items on the occasion of Halloween.
Halloween Curiosities -Before the Pumpkins
The origin of the pumpkin lanterns, already so typical in all Halloween celebrations comes from an old Irish story about a man named Stingy Jack. According to legend, Jack after making a pact with the devil is unable to go to heaven or hell. Forced to wander all eternity he has a heck lantern with a vegetable and charcoal from the winter. Known as "Jack of the Lantern".
Halloween Curiosities – What does "Halloween" mean?
The word "Halloween" comes from the evolution of "All Hallow's Eve". This expression means "Eve of All Saints". It is celebrated on the 1st of November coinciding with the beginning of the dark season in the Celtic calendar.
Halloween Curiosities – And the famous phrase "trick or treat"?
In the old days, in some Celtic celebrations, people would put tables outside their homes with food and drink to keep the spirits happy.
Later, with the advent of Christianity, the humblest people went to the homes of wealthy families and offered to go to church to pray for their deceased. This tradition resulted in the children's custom of going to the houses and performing songs or dances in exchange for a sweet.
Finally, the American culture adopted these traditions, demanding some candy or prize in exchange for not doing any mischief. That's where the phrase "Trick or Treat" comes from.
Undoubtedly there are many traditions that exist around the world, if you visit Malaga you can rent your car here.
Are you arriving in Malaga on another date? We propose other plans in Malaga with children.
Did you like our post about Halloween?  You can rate it here: