Granada is a city of dreams, full of culture, traditions, and places full of beauty. ✅🧐😎 A city with more than 230 thousand inhabitants that welcomes every year thousands of tourists who want to discover all the charms of Granada. Also, it has all the services so that nearby towns are nourished by the city in daily life.
Today we want to make you a list of places to see in Granada in two days.
What to see in Granada in two days? 2023
The Alhambra
We couldn't start this list of what to see in Granada in two days in a place other than the Alhambra in Granada. It is currently one of the most visited monuments in Spain. A set of palaces, gardens, and fortresses that housed a real citadel within the city of Granada.
Don't miss anything! Enjoy every corner of El Generalife, the Palace of Carlos V, the Alcazaba and the Nasrid Palaces. A work of Muslim origin that served as the residence of the Nasrid sultans. In 1984 it was declared a World Heritage Site by UNESCO. Since then, more than 2 million people visit it every year. The Alhambra is one of the most beautiful places in the world!
We recommend that you buy your ticket well in advance! Remember that it is one of the most visited monuments in Spain so every day fills its capacity.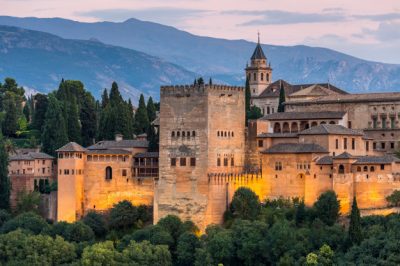 Mirador de San Nicolas – What to see in Granada in two days
Maybe it's one of the most beautiful viewpoints in the world. With views of the Alhambra, it manages to make all the visitors who come up to contemplate its spectacular views enjoy themselves. Besides, you will love the atmosphere since many dares to play some music and dance flamenco. Perhaps the worst thing is the number of people that there are always. Granada will undoubtedly captivate you in two days.
If you prefer more privacy, but with good views, you can visit the Mirador de San Cristobal or the Mirador of Los Carvajales. They are much less known and you will enjoy more tranquility.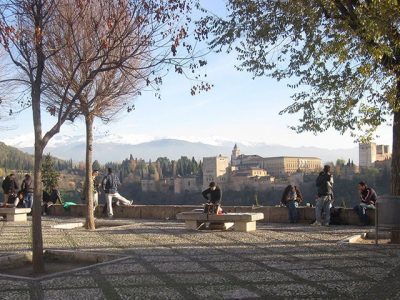 Caminando Granada
Barrio del Albaicin – Granada in two days
If in your getaway to visit places in Granada you want to discover an authentic Granada neighborhood you can not miss the Barrio del Albaicin of Granada. It was a place where the first Muslim court was erected in the eleventh century.
It was home to more than 40,000 people and 30 mosques. Typical are its narrow streets and small houses. It also has numerous cisterns, some of which are preserved today. Two days in Granada? Does that seem untrue?
The Albaicin quarter of Granada is a place to relax, to walk its narrow streets and discover places that you won't find in any guide. You will be able to enjoy a good cane with its respective cover seated in one of its terraces. If you want to enjoy a sunset this is a perfect place to contemplate the Alhambra.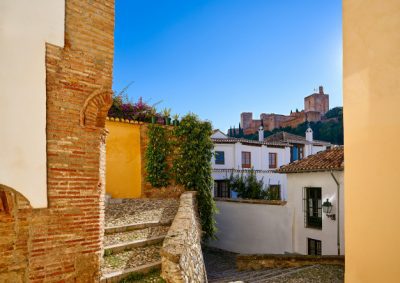 How to get to the Albaicin neighbourhood? – What to see in Granada in two days
Although you can choose to go up for a walk enjoying its narrow streets, you can also take one of the minibusses that make tours.
The last departure from Plaza Nueva towards the Albaicin neighborhood is around 23:00 from Sunday to Thursday; Fridays and Saturdays extend the timetable until 01:00 in the morning.
Another option is to take a taxi.
There are many places to see in Granada in two days, but we recommend that you at least do not skip any of the places described in the post. Give yourself time!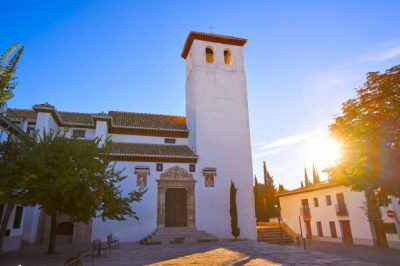 Paseo de los Tristes- What to see in Granada in two days
Do you want to know why it's called that? Officially it is Paseo del Padre Manjón, but it is known as Paseo de los Tristes because it was the place where the funeral cortege passed on its way to the cemetery.
Stroll around here or sit on one of its terraces to take a good gin and tonic you will love. Its views of the imposing Alhambra watching people pass by are sure to please you. It is undoubtedly one of the places of interest in Granada if you come to the city for two days.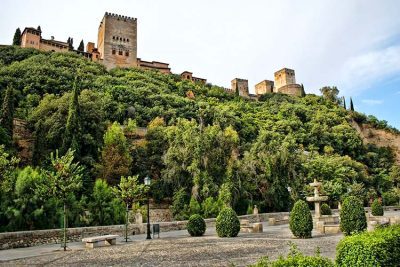 Granada por el mundo
Alcaicería
This part of the city during the Islamic period was the great bazaar of Granada, where traders sold their silks and handicrafts. Today it is a passageway full of shops and souvenirs. You will like to discover some of the most typical gifts during your visit to Granada in two days.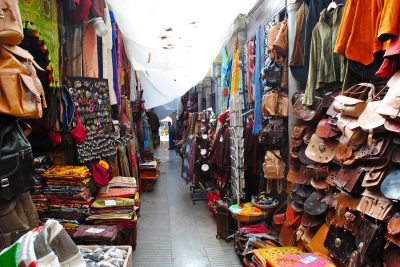 Apartamentos Casa Miravalle
Carrera del Darro – What to see in Granada in two days
Next to the Paseo de los Tristes you will find one of the most beautiful streets for the people of Granada. The Carrera del Darro, always parallel to the River Darro, is the one that separates the two most important places in Granada: the Alhambra and the Barrio del Albaicin.
You will be surprised by the romanticism of this street, the sensation of old and bohemian of the place. In the Carrera del Darro we can also find historic buildings such as the Arab Baths, the House of Castril or the Convent of Santa Catalina de Zafra.
Do you like handmade chocolate? Would you like to take a delicacy from your visit to Granada in two days? In one of the streets called Acera del Darro you can find the Chocolateria de la Abuela Ili (Grandmother Ili's Chocolate Factory), where the people of Granada buy their handmade chocolates of a multitude of varieties.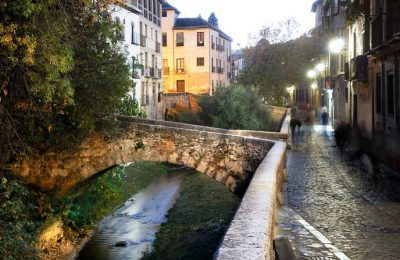 Turismo de Granada
Barrio del Sacromonte
The cradle of Granada's gypsies and the art of flamenco. Even Obama has come! If you want to enjoy flamenco you can visit some of its caves and Andalusian houses where they organize performances and thousands of visitors come to delight themselves. The most famous caves in Granada are known as Zambras, wide, white caves full of copper ornaments. Undoubtedly, it is one of the things to see in Granada in two days.
For centuries these famous caves, located on the slopes of Cerro de San Miguel, have been home to gypsies, bohemians and flamenco artists. Today in this neighborhood you can enjoy a good flamenco show in Granada.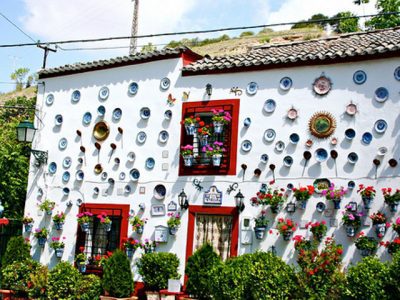 lugaresquevisitar.com
What to see in Granada with kids?
Where to eat tapas in Granada?
All the places on the list are relatively close so you can enjoy relaxing whenever you want during your two days in Granada, so we recommend some places to have tapas in Granada.
Depending on which part of the city you are in you can visit: Los Diamantes (they have several places in busy parts of the city), La Bella y la Bestia, Los Manueles or Bajo de Guia. Undoubtedly places with excellent tapas to enjoy the gastronomy of Granada.
Some of these places specialize in fish and rice, others have the most typical food of Granada as eggplants with a honey cane or beans with ham.
Besides, if there is something good about Granada it is its prices. In many of these bars you can find caña and tapa for only 2 euros.
If you travel to Granada with children, you will surely like these tapas places, because the menus are very varied and the atmosphere is familiar.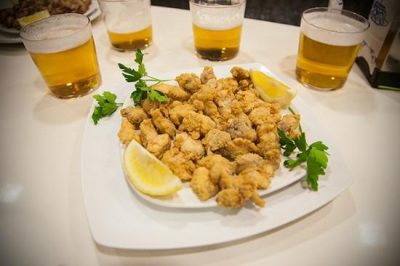 TripAdvisor
Granada will probably be very short in two days because although it is not an extremely large city, it does have a lot of history to discover.
If you can enjoy more than two days in Granada do not miss the Science Park. The Bioparc is located there, so if you visit the city with children and are an animal lover this can be a good place to spend a morning or afternoon.
Are you looking forward to more? Don't miss our post about what to see in Malaga in two days or what to see in Seville in two days. Have you thought about how to get to Granada from another point? You can rent your car and enjoy the beauty that Andalusia has to offer.
Did you like our post about What to see in Granada in two days 2023! 🧐✅? Rate it!
---
Other posts you may like: