Do you want to spend a magical afternoon with your family? Still do not know where to see the Three King's Parade 2019? 
As every January 5, their Majesties Melchor, Gaspar and Baltasar, come to Malaga to fill thousands of families with hope. Whether by land, sea or air, the three biblical kings do everything possible to fulfill the wishes of the local people.
Some enjoy the afternoon as a family with their children, others remember with excitement how they lived this day when they were younger, and the rest, focus on collecting as many candy as possible. For this last group, a cavalcade can become a battlefield.
If you want to spend a special afternoon on January 5, choose one of these 6 Three King's Parade held in Malaga.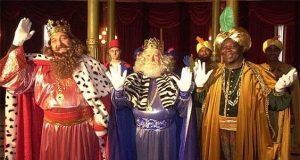 Source: pinterest.es
The best Three King's Parades in Malaga
Thousands of people, adults and children, gather on January 5 to see the Three King's of the East in the streets of Malaga. If you have not yet decided the exact place to live this special event, choose one of these 6 locations we recommend to enjoy a magical afternoon.
Cabalgata de Malaga in the city centre
On Saturday January 5, 2019 at 6pm you have an appointment with the Three Kings of the East in Malaga city centre to enjoy of the most spectacular and fun ride of all.
Due to the construction works for the new line of the subway , the Three King's Parade in Malaga 2019 will modify its route. On this occasion, it will be re-route to Calle Larios from the Plaza de la Marina.
The exact route is: Avenida de Cervantes – Plaza del General Torrijos – Paseo del Parque – Plaza de la Marina – Calle Larios – Calle Martínez – Atarazanas – Plaza de Arriola – Santa Isabel Hall – Carretería – Álamos – Plaza de la Merced.
At the end of the Malaga parade, the kings stop in Alcazabilla and Císter Street with torches to light up the way, as an offer to the lord Jesus Christ on the stairs of the Cathedral. Once there, there will be a music concert and a Choir of White Voices called "Ad Libitum".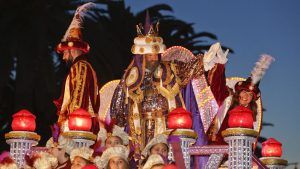 Source: malagahoy.es
Cabalgata de Reyes Magos in Marbella
On Saturday, January 5, from 6pm, the parade of the Three king's of Marbella 2019 will take place.
A total of 27 floats, lots of music and colour to excite the entire family. In addition, the snow is also guaranteed, thanks to foam cannons that will be located in the of the Fire Extinguishing trucks provided by Marbella City Council.
The peculiarity of this parade is that the King's make the journey in vintage cars. It starts at Avenida Severo Ochoa (from Quirón Hospital building), and continue along Avenida Ramón y Cajal to end at Avenida Ricardo Soriano.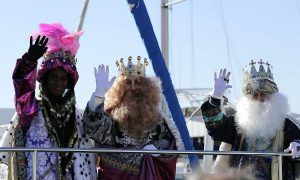 Source: marbellaazul.com
Cabalgata de Reyes Magos in Benalmadena
On January 5, 2019 at noon, the King's will land in Benalmádena Marina to visit the main streets of Benalmádena during the afternoon, distributing tons of candy among hundreds of children.
The "Cabalga de Reyes Magos" of  Benalmádena, as every year, is divided into two areas:
– "Cabalgata Benalmadena".
At 4:30pm the king's parade will begin at Los Nadales Fairground and it will end at the town hall of Benalmádena.
– "Cabalgata Arroyo de la Miel".
At 7pm, the Arroyo de la Miel parade will begin at Tivoli World Amusement Park and it will end at Plaza de la Mezquita.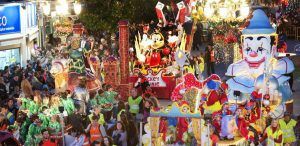 Source: ladiversiva.com
Cabalgata de Reyes Magos in Torremolinos
The Three king's parade of Torremolinos will be held on January 5, 2019 from 5pm, with 5000 kilos of candy and almost 1 ton of confetti and serpentine rolls. It will end at 8pm at Torremolinos Town Hall.
An association of Torremolinos has proposed for the next parade to consist on a woman, a man and a transsexual as the Three king's in favor of equality. Torremolinos has been, for many years, a cradle of freedom for the LGTB community but we do not know yet if this proposal will be approved for the next parade.
As every year, the tour will start in Plaza Blas Infante and it will cover the main streets of the city. Are you going to miss it?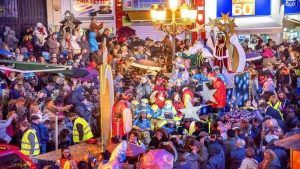 Source: 20minutos.es
Cabalgata de Reyes Magos in Campanillas
The Three King's land in Campanillas on January 5, 2019. From 17:30h the Parade of the Three King's will depart from the Francisco de Quevedo school to Guadalquivirejo street, passing through the Chopos lane, Aljaima and Chaparral.
In addition, the day before, the Royal Mailman will be collecting the children's letters at the Beltrán Lucena cultural center, an event organized by the El Carmen Association with the collaboration of the Municipal Council.
If you want to avoid the crowded Parade in city centre , visiting the Three King's parade of Campanillas is a good option.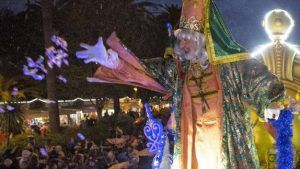 Source: diariosur.es
Cabalgata de Reyes Magos in Antequera
On 2018, the Three King's of Antequera came from the sky in a balloon. Next January 5, 2019, Melchor, Gaspar and Baltasar will visit Antequera to deliver small toys, candy and much happiness.
In these parade, besides candies, you can also receive small cakes, bread snacks and even local muffins from the floats. Did you expect it?
From 6pm you can enjoy the Reyes Magos Parade of Antequera, starting in Plaza de Toros and taking the following route through the town: Ronda Intermedia, Avenida Pío XII, Plaza Castilla, Alameda de Andalucía, Infante Don Fernando, Plaza San Sebastián , Encarnación, Calzada, Diego Ponce, Cantareros and returning to Alameda de Andalucía and Puerta de Estepa.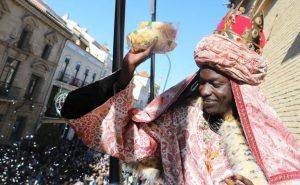 Source: diariosur.es
And you? How do you usually enjoy the night before the arrival of the Three King's? Do you have a favorite Parade in Malaga? To enjoy the first weekend of the year, choose one of these 10 Alternative ways to spend Christmas in Malaga
Are you coming to Malaga this time of year? Rent your car now and enjoy Christmas in Malaga.