The Costa del Sol receives tourists all year round thanks, in large part, to its good weather and its fantastic services. Many towns receive thousands of tourists in the province of Malaga. Today we tell you what to see in Benalmadena so that you don't miss anything.
Benalmadena has more than 65 thousand inhabitants and a wide tourist offer, offering plans for all ages and tastes.
¿Where is Benalmadena?
Benalmadena is a municipality belonging to the province of Malaga.
A little history of Benalmadena
The municipality is divided into 3 parts:
Benalmadena Village, here is the oldest urban nucleus of the city, including its historic center.
Arroyo de la Miel, located between the coast and the mountain.
Benalmadena Coast, known mainly for the marina of Puerto Marina and its coasts.
What to see in Benalmadena village
Benalmadena was inhabited for the first time in the Upper Palaeolithic after they came the Phoenicians, Romans and Muslims. In 1456 the Christian conquest of Benalmadena took place.
Unfortunately, the city was hit by a strong earthquake in 1680, leaving not a single house standing. Years later the repopulation of the city began.
Once you know the parts of the town and where Benalmadena is, we will show you what to see in Benalmadena so that your visit will be a success.
Uniques places in Benalmadena
Youtube (Ayto. Benalmádena)
After watching the video about some of the most beautiful places in Benalmádena we tell you in detail everything you cannot miss.
1. La niña de Benalmadena
Without a doubt, one of the symbols of the city is the "Niña de Benalmadena". A statue created by Jaime Pimentel in the late 60s. This statue is made of bronze and represents a girl with a shell full of water.
A replica of this statue can be seen in Brussels, symbolizing the twinning between the two cities. If you visit the city it is one of the things to see in Benalmadena.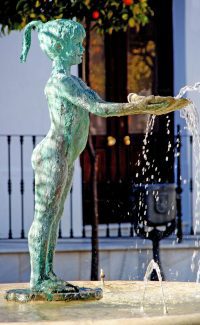 2. Benalmadena Castle
2.1 Colomares Castle
A castle that was built in 1987 as a tribute to the Discovery of America and Christopher Columbus. A spectacular fortification overlooking the Mediterranean. Undoubtedly if you visit the city you can not miss going to one of its castles.
It is the largest monument in the world dedicated to Christopher Columbus with more than 1,500 cubic meters. Inside the castle is the world's smallest chapel, dedicated to Saint Isabella of Hungary – all on the Costa del Sol!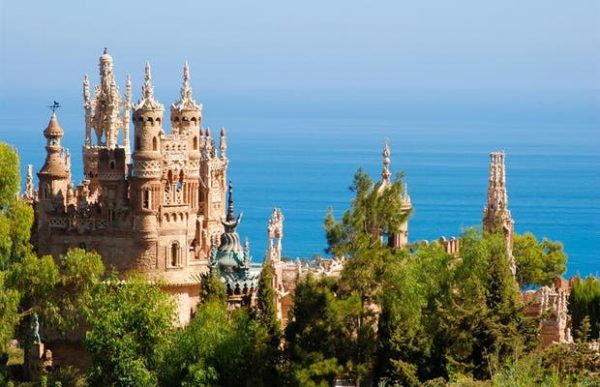 Mi nube
2.2 Bil-Bil Castle
In the 1930s it was the private home of a wealthy French family. After having passed through different families, the Benalmadena Town Hall bought the Bil-Bil Castle, where today it is converted into an art center and most of the weddings in the province of Malaga are celebrated. Do not miss this castle if you visit the city as it is one of the things to see in Benalmadena.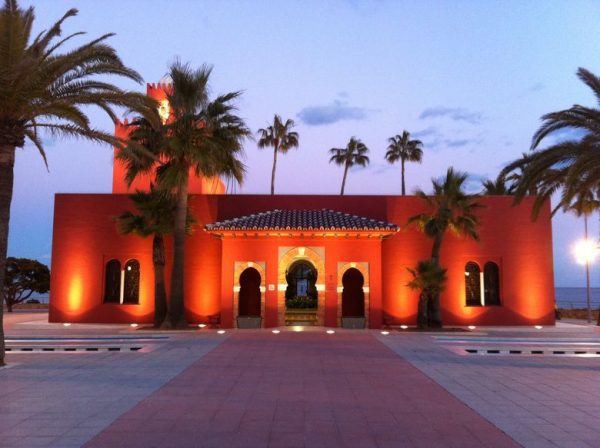 Sunset Beach Club
Stupa of illumination
A Buddhist monument is more than 30 meters high. This monument was inaugurated in 2003 and represents peace and harmony in the world. It is the largest Buddhist temple in the West. You will be able to take some wonderful photos at sunset and contemplate the views of the Mediterranean sea. The entrance to the Stupa in Benalmadena is free of charge. If you visit Benalmadena with children you will love this place.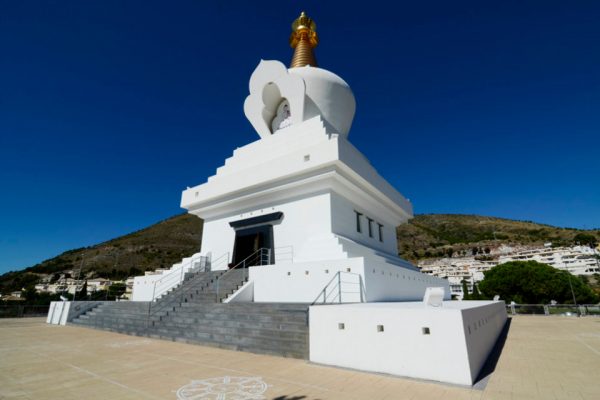 Budismo España
Benalmadena Cable Car
This is the highest point in the city. The cable car journey takes 12 minutes and leaves from Benalmádena and continues through Monte Calamorro, at an altitude of 771 meters. When you get to the top you can enjoy a bird training demonstration in the Jardin de las Aguilas, a place that has recovery programs for more than 160 specimens. If you come with children it could be a very good option to enjoy.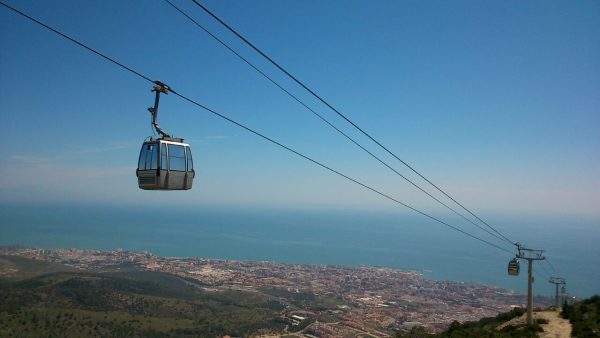 Teleférico Benalmádena
What to eat in Benalmadena?
Marina Port
This port is one of the most beautiful of all the Costa del Sol, has also received twice the title of "The Best Marina in the World", thanks to its 1,100 berths. It has been awarded the Blue Flag without interruption since 1987.
Here, in addition to the boats, you will find an area full of restaurants and bars where you can relax. At this point in the city, you can find great restaurants to eat in Benalmadena.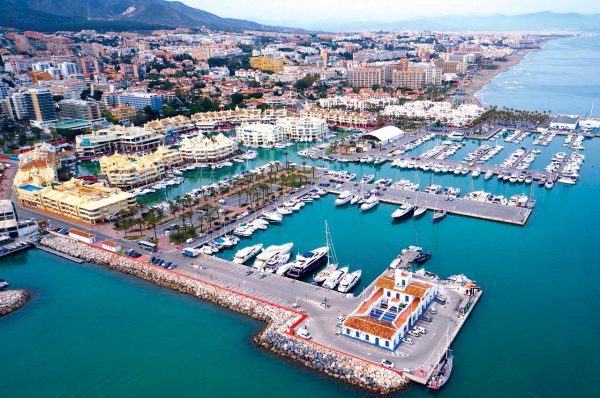 Puerto Benalmádena
Ole Square
A small Andalusian square located in the city. Here you can find bars and restaurants to relax and think about the following activities in Benalmadena. You can find more places like this within the municipality.
Benalmadena with children
Selwo Marina (Delfinarium)
A park for children and adults, designed to enjoy animals such as dolphins, penguins or sea lions. The park is divided into 4 geographical zones; the Antilles, La Hondonada, Isla de Hielo and Amazonia. If you travel with children to the city of Benalmadena this is one of the best activities to visit Benalmadena with children.
This park has conservation programs, intending to preserve and defend this fauna.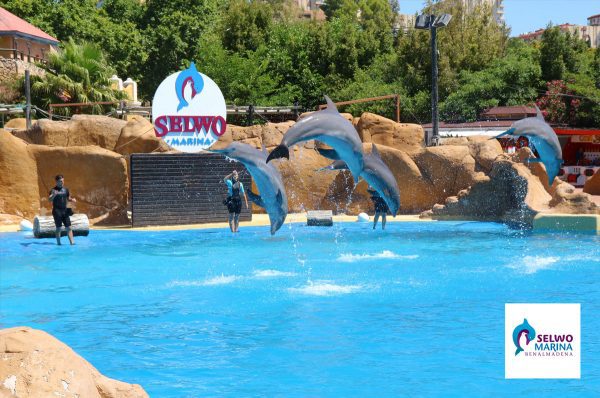 Sea Life Benalmadena
Do you like the marine world? Here you can find many of the marine animals that exist in the world. Colored fish, seahorses, sea turtles or sharks.
Without a doubt, if you travel with children to Benalmadena you can't miss Sea Life Benalmadena.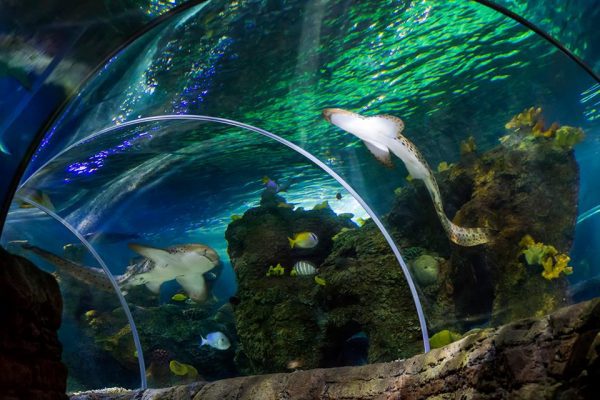 Mis viajes por ahí
La Paloma Park
Nowadays, it is easy to find animals such as peacocks, emus, donkeys, turtles and other animals. You will surely love this experience if you visit Benalmadena with children.
What to do in Benalmadena if it rains?
On the Costa del Sol we enjoy more than 300 days of sunshine a year, but of course, it can also rain. We recommend you consult the forecasts and have an alternative plan with things to do in Benalmadena it rains. You can go to the parks mentioned above.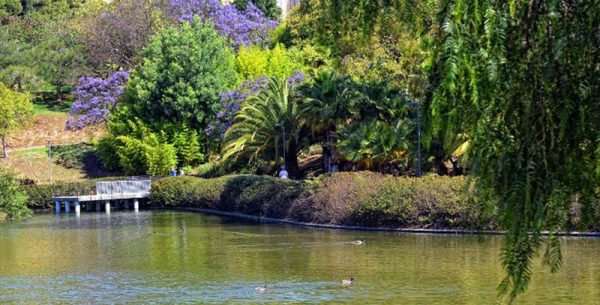 Visita Costa del Sol
Benalmadena Butterfly Farm
Did you know that this space is the largest butterfly farm in Europe? It is located in a Thai style building. This place is next to the Stupa. 1,500 butterflies of more than 150 different species. A glazed garden of more than 900 square meters.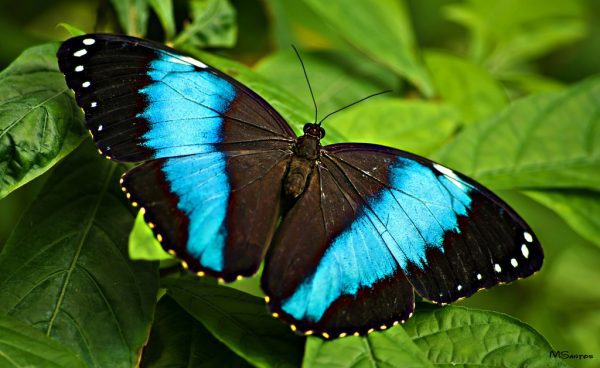 Visita Costa del Sol
Here are just a few of the places to visit in Benalmadena, but it is undoubtedly one of those places with a lot of charm and nooks and crannies to discover. Are you arriving at Malaga airport? Rent your car now and discover every corner of the Costa del Sol. If you feel like it you can visit other parts of Andalusia, you discover what to see in Cadiz capital, which is very close.
Did you like our post about What to see in Benalmadena! 15 unique places 🧐? Rate it!
---
Other posts you may like: