In recent years, beach clubs have become fashionable. Beach clubs offer their clients exclusive parties and locations. During the summer season thousands of people go to these types of clubs in order to have fun and have a good time.
There are beach clubs of all types and locations, some of them even have private pools and jacuzzis.
Today we want to tell you which are the most popular beach clubs in Malaga at the moment, adapted to all budgets and with all kinds of amenities. 🎉🔝
Beach Club in Malaga
Beach Club in Marbella
Trocadero Arena
Balinese beds, swimming pool and signature cuisine make this place magical. The decoration of this beach club is undoubtedly one of the most carefully designed. Its decorator, Lorenzo Queipo de Llano has undoubtedly achieved one of the most exclusive and cared for clubs in Marbella.
Suite del Mar
Located in the heart of the Golden Mile and right on the beachfront. It has a spectacular restaurant that turns into an impressive discotheque at night.
In addition, outside you can rent sun loungers and beach umbrellas.
Undoubtedly, a meeting point chosen by Marbella's jet-set.
Opium Marbella
Perhaps one of the best known beach clubs. Opium is undoubtedly in fashion. It is located right on the beach and has a swimming pool, Balinese beds, DJs, cocktails and international cuisine.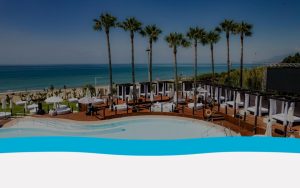 Mahiki Beach
Another beachfront paradise to enjoy the long summer days. It is in the heart of Marbella and is perfect for enjoying a good cocktail. It is also decorated in a tropical setting.
Nikki Beach
Surely the name of this Marbella club is familiar to you. It is one of the best known and most glamorous on the Costa del Sol. An exclusive atmosphere that combines entertainment, music and gastronomy to offer its visitors unique places.
A resort with all kinds of amenities in one of the most exclusive areas of Marbella.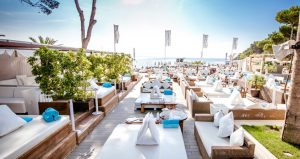 Ocean Club
It is located in Puerto Banús and is one of the most exclusive and ostentatious clubs in Europe. It boasts of welcoming the world's jet-set where luxury and glamour are present.
International cuisine, cocktails and champagne on a stunning terrace with white tones and swimming pool.
Beach Club in Torremolinos
Kokun Ocean Club
If you like the latest commercial music, the reserved areas and being seen, this is the place for you in Torremolinos. A charmingly decorated place right on the beach, where you can reserve your sun lounger.
You should know that this type of place is more for late night.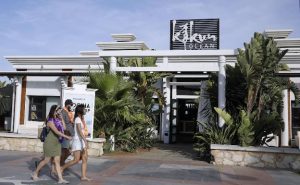 La Playa Summer Club
A different offer to Kokum, where they take great care of the varied food in a more surfing and informal atmosphere. If you're looking for a good time with live music on Sundays, this is the place for you.
El Horno Beach
Located in La Carihuela, it offers typical local fish. It also offers Balinese beds and an area to listen to good music and enjoy the party..
Beach club in Benalmádena
Trocadero Benalmádena
If you go at night, you will be impressed by the lighting and decoration. Spectacular sea views with excellent decoration and live music.
A space for events on the beach to enjoy especially in the summer season.
Beach Club Mijas
Unico Beach Mijas
It is a modern place located on the seafront, with a swimming pool, beds and a very varied gastronomy. It is one of the most highly rated clubs on TripAdvisor. If you are in the area we recommend you not to miss this place.
Max Beach
You will be impressed by the sea views from the pool and the divans. It has a bar, gym etc. You will be impressed with Max Beach in Mijas.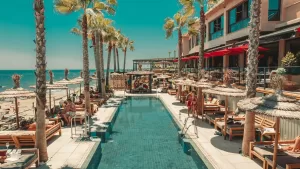 As you can see, there are Beach Clubs in the province of Malaga to suit all tastes. You should know that there are some more in other municipalities, but we wanted to collect the most striking ones.
Thinking of enjoying a good meal before heading to the party? Check out the Michelin-starred restaurants in the province.
If you arrive at Malaga airport we recommend you to rent a car in Malaga and discover at your own pace all the places of the Costa del Sol.
If you liked our post now you can rate it.
Did you like our post about The best Beach Clubs in Malaga? Rate it!
---
Other posts you may like: