If there is a city visited par excellence of the Andalusian coast during the summer it is Malaga. The Costa del Sol is a tourist attraction at this time, and its possibilities are practically endless.
The capital has experienced great growth in recent years and this has led to an increase in leisure options, cultural alternatives and increased job offers. Today we make a list of what to see in Malaga in two days.
The best of Malaga in two days:
There are many places in the city. A trip to Malaga is perfect to discover all the culture that it hosts. In addition, depending on the time of the year there are cheap hotels in Malaga where you can stay during your stay in the capital. Also, there are many aparthotels in Malaga or tourist rentals. You can also have a drink in one of its many terraces, where you are sure to enjoy unique views.
Here is a list of things you can not miss in Malaga if you decide to visit the city.
La Alcazaba:
In a privileged place and very close to the cathedral, you can discover this fortification formed by the Roman Theater, the citadel and, at the top of the hill, the castle of Gibralfaro.
Currently, it occupies less than half the space it had in its period of greatest splendour but it is still one of the beauties of the city. It was built in the 11th century.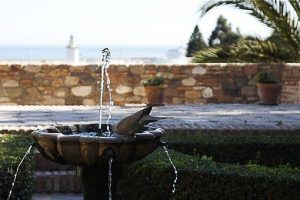 Alcazaba. Source: Pixabay
Castillo de Gibralfaro:
This castle was built to defend the Alcazaba against possible attacks. Today from its Torre del Homenaje there are beautiful views of the whole city. We advise you to go up at sunset, because you will enjoy a wonderful time.
Roman Teatre
Did you know it was discovered only 68 years ago? Yes, even the people of Malaga didn't know that it existed before. It was discovered during the works of realization of the gardens that are next to the then House of Culture. Today it is a tourist attraction of the city. You can see the opening hours to the public here.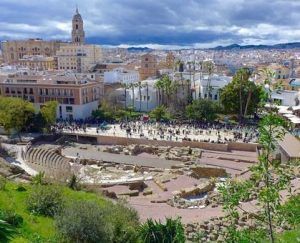 Teatro- Romano Source: Pixabay
Calle Larios:
Yes, one of the most famous streets in the world is here. Marqués de Larios street is one of the most visited places by the Malaga citizens, but also by the tourists who visit the city. It is an area of ​​the city that is always animate.
Plaza de la Merced:
Probably one of the most beautiful squares in the city, in it is the sculpture of the painter Pablo Picasso, born in the capital.
Do you think there are few plans to visit Malaga? We continue with our list of what to see in Malaga in two days!
Muelle Uno:
If any building has changed to the city in recent years has been the creation of this outdoor mall. Here you can find a more than complete entertainment alternative. Built in the city's port in 2011, Muelle Uno is one of the most popular sites in Malaga today.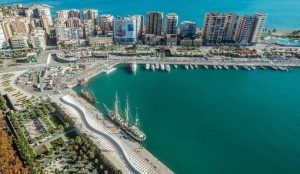 Muelle uno. Source: Pixabay
Catedral de Málaga:
Of course, you can not miss the visit to the city's cathedral, called Santa Iglesia Catedral Basilica de la Encarnación. A majestic creation with diverse architectural styles; Gothic, Renaissance and Baroque. Its north tower has a length of 84 meters, which can be seen from various parts in the city.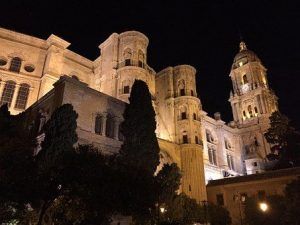 Cathedral. Source: Pixabay
La Malagueta:
Surely you have heard about this beach, one of the most famous in the whole city. With dark sand, it is 1,200 meters long and 45 meters wide. On these dates you can find service of hammocks, beach umbrellas or nautical equipment. Are you going to miss it?
Pablo Picasso Museum:
We have already mentioned before that the famous painter was born here. In addition, it has a museum dedicated to the artist.  It does not have his most famous works, but for € 8 you can take a tour through his childhood  until  adulthood.
Espetos:
Yes, you have read well. Coming to Málaga and not coming to try some delicious 'espetos' should be a sin! Where is the best place? Impossible to choose only one. There are many restaurants that prepare them, but we recommend the neighborhood of El Palo, where they have been preparing for many years.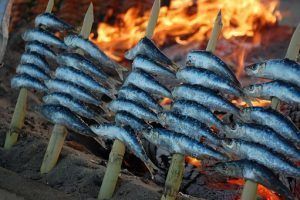 Espetos. Source: Pixabay
If you have more time, you can visit the Caminito del Rey, since its rehabilitation there are many tourists who come all year round. Here is a guide to how to get there.
As you can see there are many plans to make in Malaga very different. If you come for a visit some days you can rent your car 🚗🚗 on our website and enjoy the capital to the fullest. In addition, you can now enjoy a 30% discount with the All Inclusive option.
Rate this article about what to see in Malaga in two days





(28 votes, average: 4.57 of 5)


Loading...