The province of Malaga is one of the 8 Spanish provinces that make up the autonomous community of Andalusia. Thousands of tourists come every year to find places to visit in Malaga and its surroundings. Fortunately, Malaga and its province have many places to enjoy.
Phoenicians, Greeks, Carthaginians, Romans, and Byzantines have all passed through the territory of Malaga and its province, and even the Muslim kingdom lived here.
Would you like to go to the sea or to the mountains? Luckily, if you come to visit the province of Malaga or the capital you will be able to find both.
Perhaps the best thing about Málaga is its people. Today we tell you about the villages you cannot miss in the province of Málaga, both the coastal villages of Málaga and the inland ones.
Málaga villages with a beach
Are you thinking of enjoying the sea views? Take a look at the charming villages in Malaga that we suggest you visit during your days of tourism in the province! Enjoy the beaches near Malaga Spain and some of the most beautiful villages in Malaga
1.2 Mijas
Mijas is one of the villages in the province of Malaga that has two main parts.
Mijas Village
A Moorish town with some remains of its castle. In Mijas town you will find a charming old town full of history and customs. The oldest part of Mijas is located far from the coast, specifically on a mountain slope.
An Andalusian village in every sense, but with a great Moorish presence. You can enjoy its cobblestones, wrought iron balconies and hanging geranium pots.
Thanks to its location on the Costa del Sol, it offers a wide range of activities where you can go for a walk, discover the donkey-taxi or even have a good game of golf on some of the best golf courses on the Costa del Sol. As a curiosity Mijas Pueblo has one of the few oval-shaped bullrings in Spain. Walking around the town you will find some churches and monuments. Do you like miniatures? Mijas has its own miniature museum. Do you want to see the Seven Wonders of the World painted on a toothpick? They have it!
If you are looking for a gastronomic route you will find very special places where you can taste the typical food of Malaga.
Mijas Costa
The other part that makes up Mijas is known as Mijas Costa. Without a doubt a perfect place to continue enjoying the culture, but without leaving behind the beach and the sea.
A good beach in Mijas Costa? Choose the Cala de Mijas, known for the good quality of its beach, being one of the best beaches in Malaga. You can also enjoy the typical "chiringuitos" where you can taste a great variety of fish and seafood.
From Mijas, you will be 3 minutes away from Fuengirola.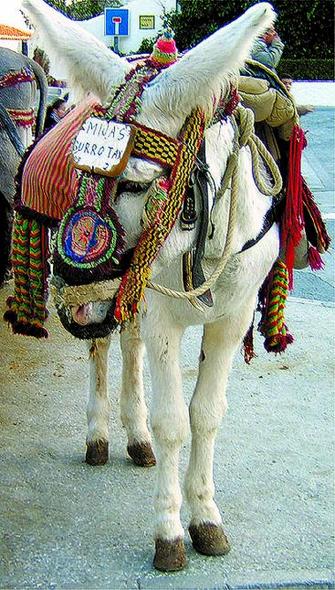 malagahoy.es
1.3 Fuengirola
It is probably one of the most demanded destinations on the Costa del Sol, thanks to the proximity of Malaga. It has 8 km of coast, the longest stretch of beaches in the province is here. Thanks to this and to its good climate it receives thousands of visitors throughout the year.
Do you like castles? The province of Malaga has several very well preserved fortifications. In addition, from this point, you can enjoy spectacular views of the Malaga coastline. Nowadays, this castle is an open-air auditorium where events and concerts are held, especially in summer.
If you like archaeological discoveries in Fuengirola you will be able to enjoy them to the full. It is undoubtedly one of the most charming villages in Malaga. The city of Fuengirola is home to two important archaeological sites: Finca del Secretario, an important Roman villa dating from the first century; and Torreblanca del Sol, a Roman thermal baths located near the Las Presas stream.
In addition, if you travel with children, the city of Fuengirola has many places designed to enjoy with the youngest as the Bioparc or Sohail Castle.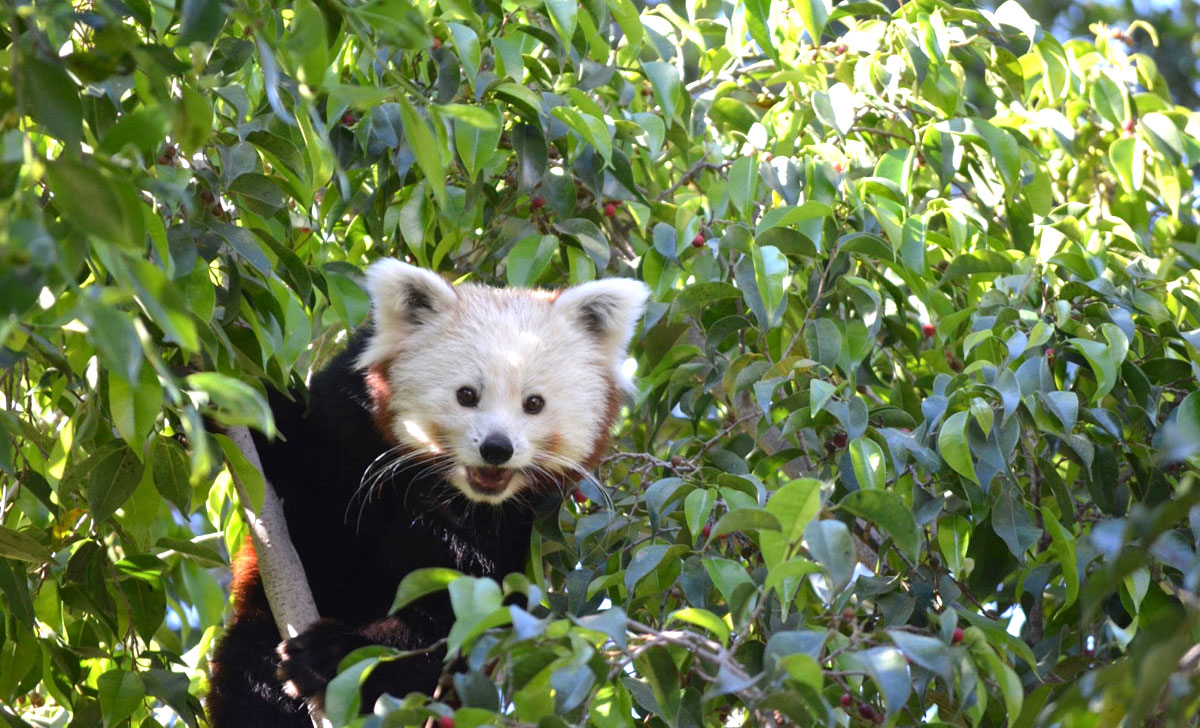 Te gusta viajar
1.4 Nerja
I'm sure you've heard of this wonder of the province of Malaga. It is, without a doubt, one of the most beautiful places in Malaga, but also in Andalusia.
You can enjoy spectacular views from the famous Balcony of Europe. Surely you know that this is the place where the legendary series Blue Summer was filmed. If you were hooked on this series, you have to know that you will be able to take a tour of the location of the series in the village.
Nerja is one of those charming villages in Malaga where you can enjoy every corner, but it has some you can't miss. One of those must-see places in Nerja is the Cueva de Nerja, declared a Site of Cultural Interest and the fourth most visited natural monument in Spain.
As a curiosity, if you were a big fan of Verano Azul, Miguel Joven (Tito in Verano Azul) gives guided tours of the Cueva de Nerja and the town.
Don't miss out on the surroundings, for many people the best beaches in the province of Malaga are in this area. Are you liking our post about what to see in Malaga and the province? Let's continue!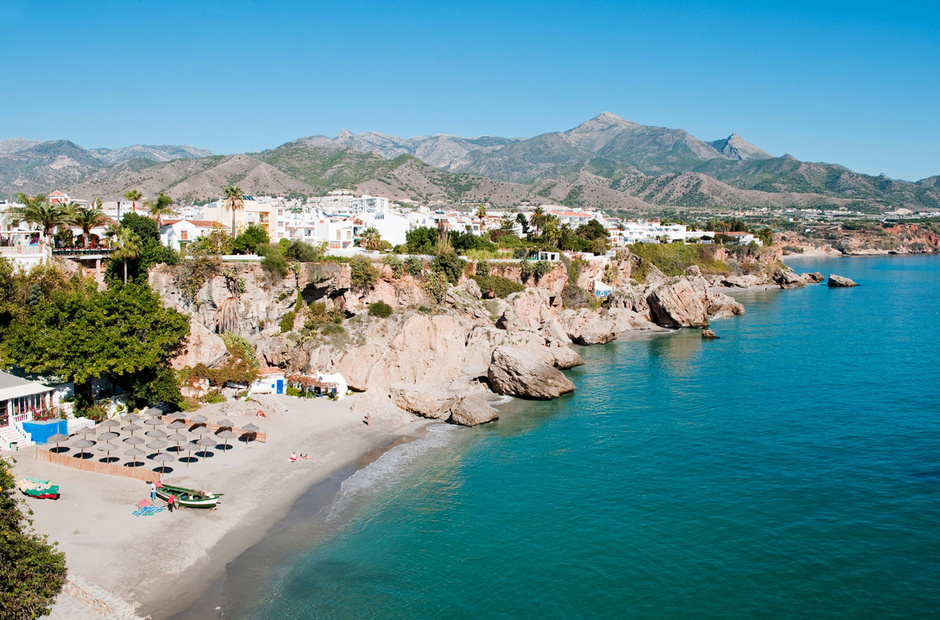 Traveler
1.5 Puerto Banús, Marbella
In our post about what to see in Malaga and province, Marbella could not be missing, more specifically Puerto Banus. It is considered one of the most exclusive areas in Spain. It was inaugurated in 1970 and has 915 moorings. Sheiks, big businessmen or oil magnates have their boats in Puerto Banús. Talking about Marbella is talking about celebrities and parties.
Do you want to see luxury cars? Take a look at this part of town, great sports cars, expensive shops and restaurants with Michelin Stars.
Marbella has other places beyond Puerto Banus that are worth seeing, you can take a walk through its streets and see many more places.
These are just some of the places to see in Malaga province with a beach but don't forget that tourism in Malaga province goes much further, that's why we also propose some villages in the mountains of Malaga.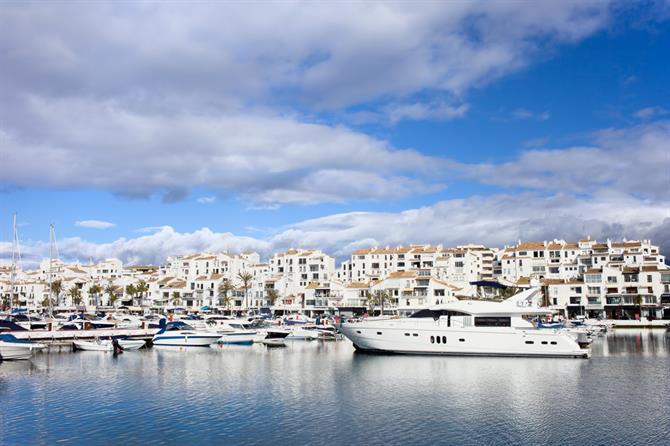 vacaciones-espana.es
2. Villages in the interior of Malaga
In the inside of the province of Malaga, you can enjoy beautiful places, surrounded by a completely natural environment. There are many charming villages in Malaga, we would never finish our post about what to see in Malaga and province, so we have made a selection of some of the villages in the inside of Malaga that you should not miss if you visit this Andalusian province.
Our particular list of the most beautiful villages in Malaga
2.1 Frigiliana
Malaga has many villages, but some of them with real charm. Frigiliana is one of those beautiful places in Malaga. A small village with only 3,000 inhabitants that even though it is very touristy retains its authenticity completely.
Did you know that it is considered to be the purest popular architectural complex of Arab origin in Andalusia? Cobblestone streets, white houses decorated with flowers, colorful doors, and beautiful views. The most famous streets of this Andalusian village located in the province of Malaga are Calle de la Amargura and Calle Alta.
Frigiliana is located in the eastern part of the province of Malaga, only 13 km from Nerja. From Malaga city, it takes only 50 minutes to arrive, so it is one of the places to visit near Malaga.
There are many villages near Frigiliana that you can visit once you have visited this beautiful place in the province of Malaga, so don't forget to bring your camera!
We recommend you its good gastronomy so if you go there calmly, treat yourself to lunch or dinner in the town of Malaga.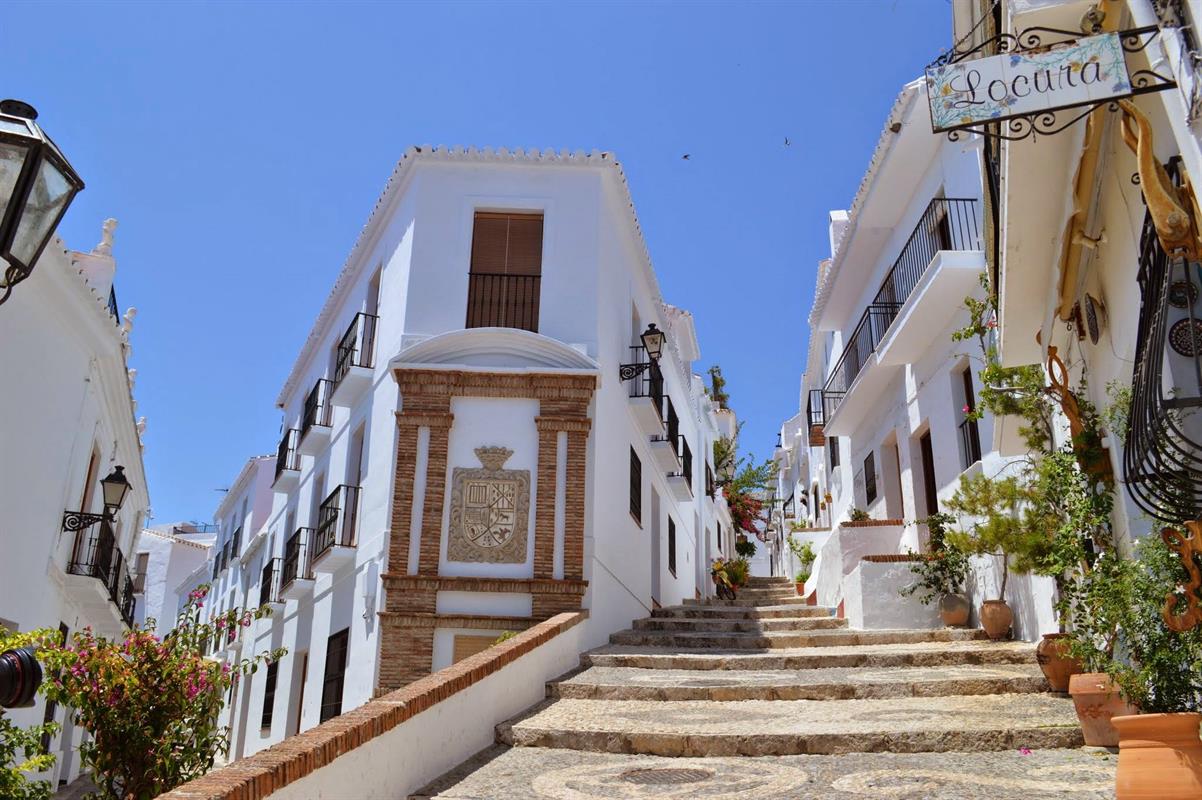 vacaciones-espana.es
2.2 Genalguacil
A visit to the village of Genalguacil in Malaga is to get into the heart of the Genal Valley, a privileged place only 40 km from Ronda. A small municipality, with almost 400 inhabitants.
The climate of Genalguacil is usually quite good all year round, with an average temperature of 14 degrees. In this town every two years the well-known "Art Meetings" are held, artists from all over gather for a week to make different pieces of art in the streets of the whole municipality. Today you can enjoy 123 works of art in the streets of Genalguacil.
Moreover, during your visit to this charming village in Malaga, you will be able to buy handmade products made with bulrush and cork.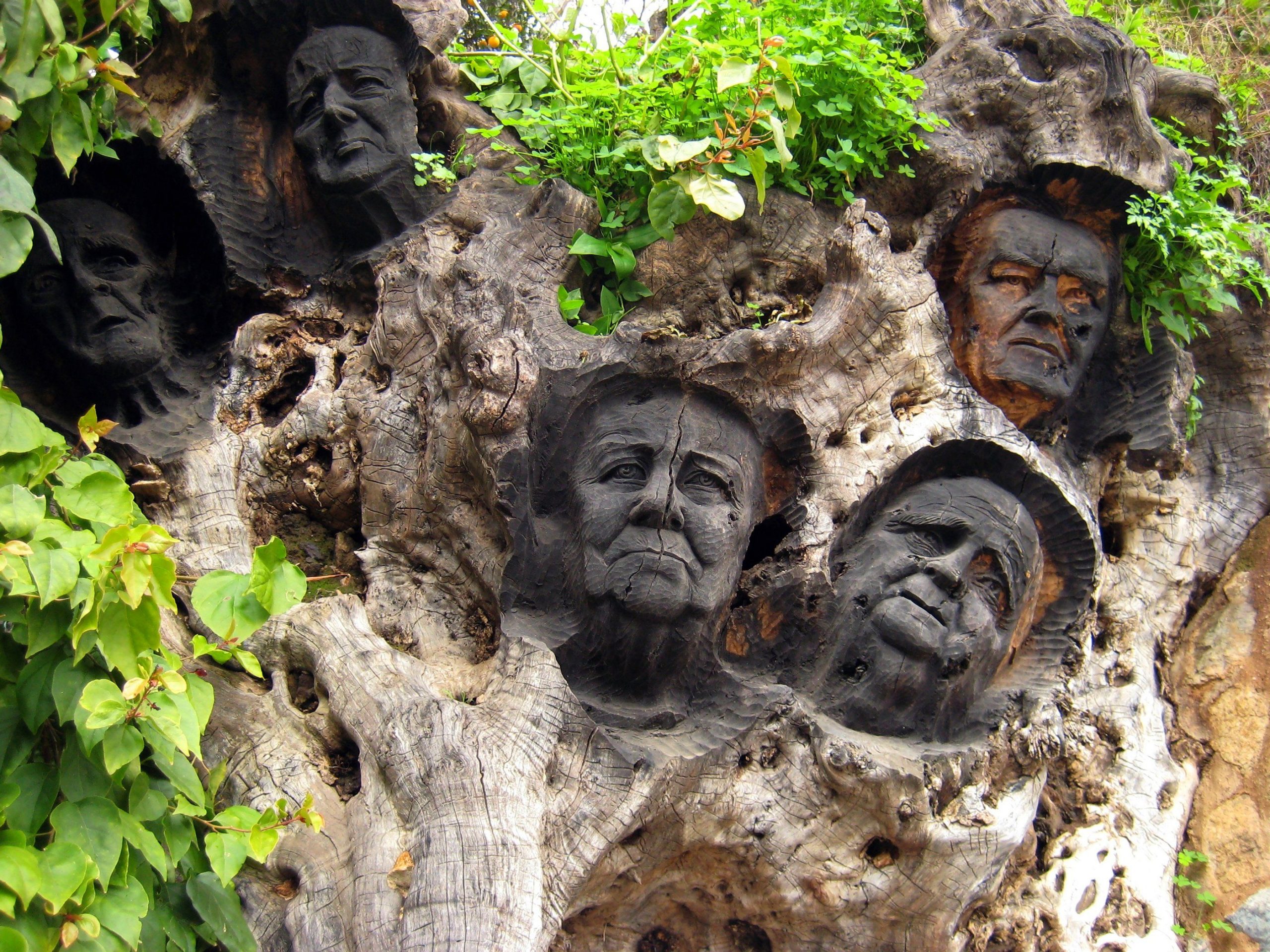 Escapada Rural
2.3 Ronda
Oh, what will Ronda have! One of the most beautiful villages in Spain. Surely you have seen images of its imposing Puente Nuevo, a construction more than 200 years old. This bridge connects the two parts of the village, which is divided by the river.
Ronda hides many more beautiful places worth discovering. If you visit this village of Malaga you can't miss the Alameda del Tajo to have a look at the Balcon del Coño. This famous viewpoint hangs on the wall at the end of the Alameda del Tajo.
You can't miss the Plaza Socorro either, one of the busiest and most lively places in Ronda, in this square you will find the Church of Socorro.
As you may have noticed, there are many places in the province of Malaga to see.
Do you like sports? You can go on a zip line over the Puente Nuevo, there is a zip line that crosses the whole of Ronda.
Luckily tourism in Malaga province has more and more followers and not only the coastal villages are visited. If you like to enjoy nature you can visit the Natural Parks of the Serrania de Ronda.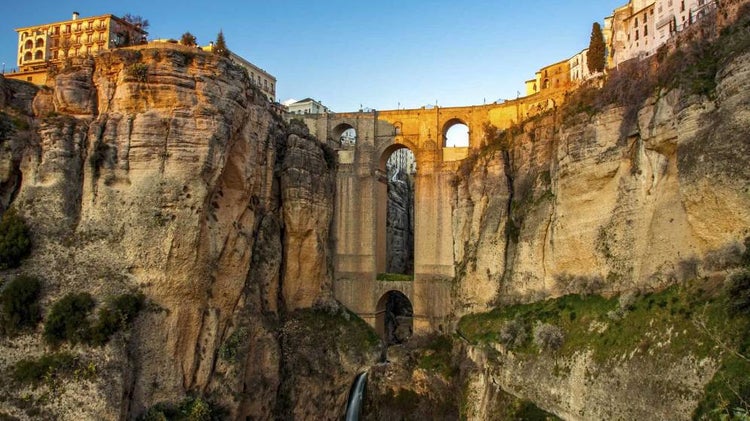 El Confidencial
3 are the Natural Parks of the Serrania de Ronda:
Natural Park of Los Alcornocales:
The last redoubt of the jungle in Europe! It has special climatic conditions. Formed by the most extensive cork oak forest in the world. Rhododendrons, ferns and laurels grow under the shadows of this place. Without a doubt, an important ecological, rural and educational tourist spot.
Sierra de Grazalema Natural Park:
At 1500 meters above sea level is the place where it rains most in Spain, you thought that this place would be in the north right? well, the rainiest place in Spain is in Malaga!
Natural Park of Sierra de las Nieves:
Did you know that this place has one of the deepest caves in the world, with more than 1200 meters of difference in level!
These beautiful places in the province of Malaga have surprised you, haven't they? We had already warned you that there are many things to see in Malaga and its province. To finish our post about what to see in Malaga and its province we are going to take a walk through the best places to see in Málaga city.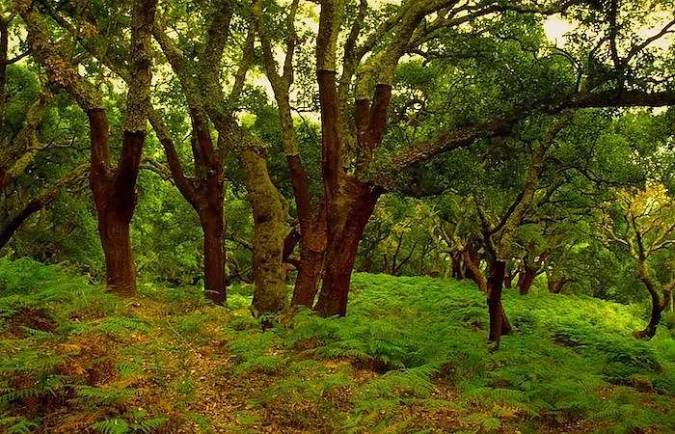 El Confidencial
3. What to see in Malaga city
The city is home to real works of art to be discovered. Malaga receives thousands of tourists during all seasons of the year and has become one of the favorite cities for European tourism.
3.1. La Alcazaba – Malaga city:
In a privileged place, right in the center of the city, you can find this fortification, which today occupies less than half of the space it had in its time of maximum splendor. The Alcazaba of Malaga was built in the 11th century.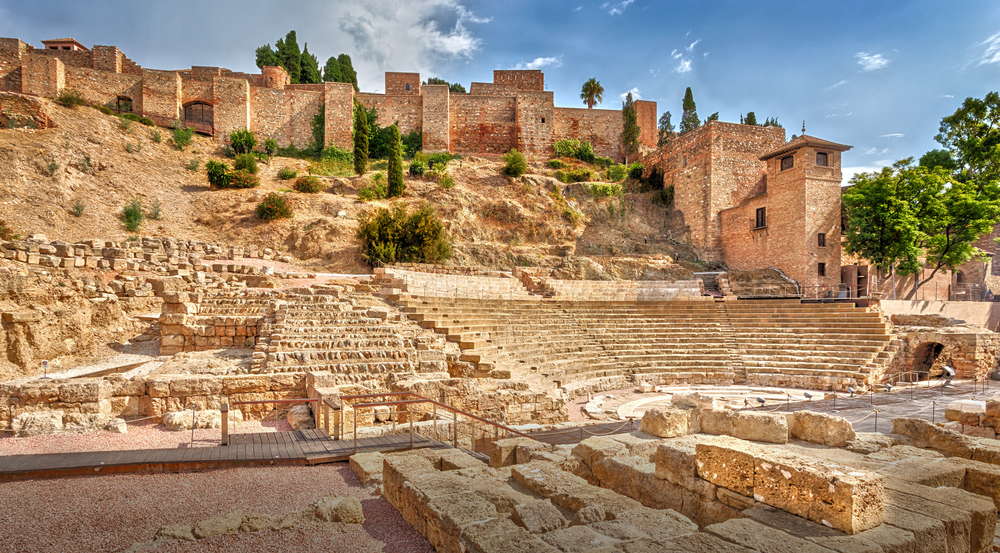 101viajes
3.2 The Gibralfaro Castle – Malaga city:
A castle that was built to defend the Alcazaba of Málaga. Don't miss the Torre del Homenaje, you will enjoy the beautiful views of the city. If you can visit it at sunset.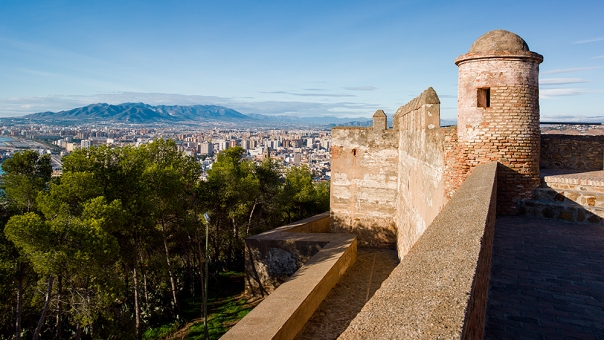 malagaturismo.com
3.3. Roman Theatre – Malaga city:
Did you know that the Roman Theatre of Malaga was discovered only 70 years ago? Today it is undoubtedly one of the most visited places in the city.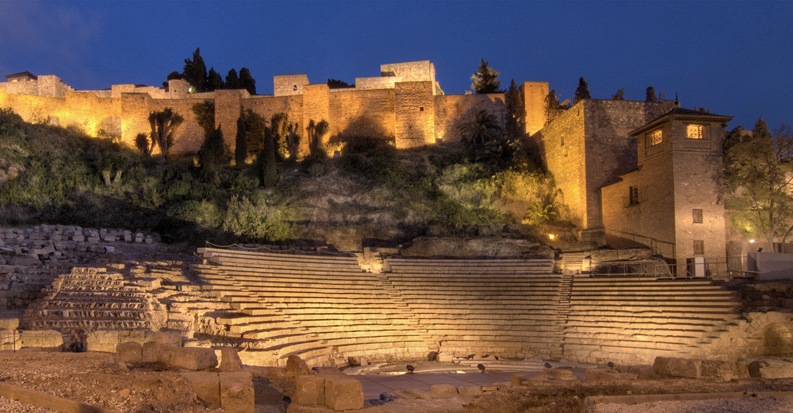 malagaturismo.com
3.4 Larios Street – Malaga city:
It is the most famous street in the city, you will find shops and clothing stores. You will be able to visit an infinity of bars and restaurants in its surroundings. And stop to have a drink in one of its many terraces in the city.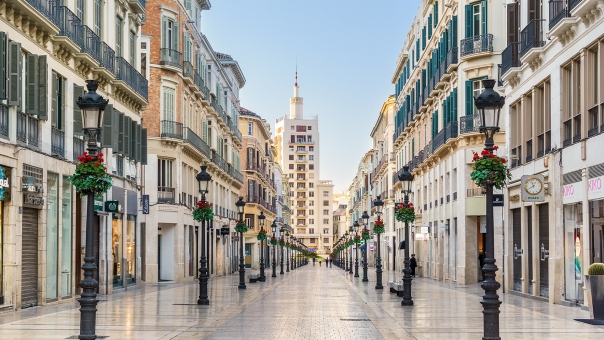 malagaturismo.com
3.5 Cathedral of Málaga – Málaga city:
We could not finish this post without recommending you to visit the Santa Iglesia Catedral Basílica de la Encarnación, Málaga cathedral. In the city, it is known as "La Manquita" because it is missing one of its towers that are not built. This temple is considered one of the most valuable Renaissance jewels in Andalusia.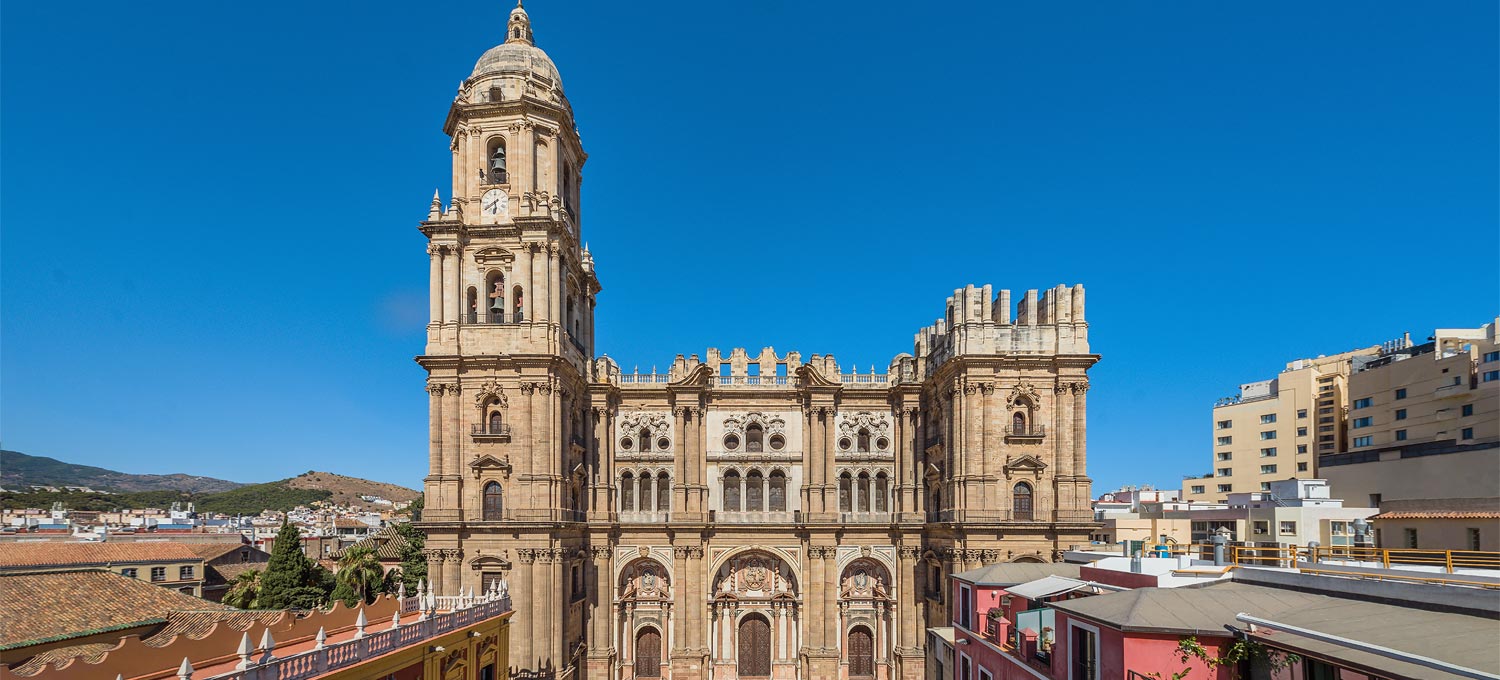 Catedral Málaga
We hope you enjoy every corner of Malaga and its province to visit. Have you thought about how to get there? Rent your car now and start enjoying the best of Malaga and its surroundings.
Do you want to discover Granada or Seville? We tell you everything!