Are you thinking about moving to Spain and you are considering to live in Benalmadena? ✅ Keep reading and we will tell you the best and the worst about living in this region.
When you think of the Costa del Sol, the sun and the sea instantly pass through the mind. A land known to many people, it has been a popular holiday destination for many years.
Making the decision to move to Spain requires thinking about various factors, such as lifestyle, climate or employment for expatriates. Once you decide to move to Benalmadena there are a number of pros and cons that you should keep in mind.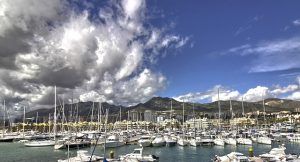 Source: Pixabay
A coastal city in southern Spain
One of the main advantages of living in Benalmadena is the proximity to the sea. Its gastronomy and culture provide a great quality of life to its inhabitants.
Located very close to the coast of Morocco, this town on the Costa del Sol is characterized by its tranquillity and its wide range of leisure activities, with shopping centres just a few kilometres away, golf courses, theme parks and housing developments at prices not as exorbitant as in the neighbouring Marbella.
Expats in Benalmadena
For several decades, the southern coast of Spain has become a retirement area for many foreigners from European countries such as Great Britain, Ireland, Germany or Sweden due to their good living conditions.
The British, German or Dutch expatriate communities are quite frequent and it is common to find neighbours with a foreign majority along the entire Costa del Sol.
The fact that Benalmadena has such a large international community has the advantage to count with a big number of services adapted to this community. From foreign supermarkets to bilingual schools and cultural centres.
Source: Pixabay
Weather in Benalmadena
The climate in Benalmadena is characterized by being warm throughout the year. The winter is quite warm compared to other European countries, and temperatures do not fall below 0 degrees.
Summer, on the other hand, is quite hot and temperatures can reach 40 degrees on some occasions, although the sea usually regulates the temperatures making it more pleasant.
Spring and autumn usually last a few weeks and, during these seasons, the nicest days to walk and enjoy life on the streets. Undoubtedly, one of the great advantages of living in Benalmadena.

Source: Pixabay
Work for expats in Benalmadena
Finding a job in Spain is, in general, a complicated task for local people. If we talk about work for foreigners, this situation can be either an advantage or a disadvantage.
A large part of Spaniards do not have higher education and, due to the economic situation, the possibilities of finding a well-paid job is complicated.
As a foreigner, if you know how to speak English and Spanish at a professional level there may be many opportunities for you. The percentage of Spaniards who can speak English fluent enough to be able to work in an international environment is low, so multinationals and tourism companies are always looking for people.
If you are interested in hospitality or have a higher education diploma and a good level of Spanish and English, your chances of finding a job increase.
Another option would be to start a new business and open your own company in Spain. As a European citizen, the procedures are not complicated.
The following link deals with useful information on how to move to Spain from a European country.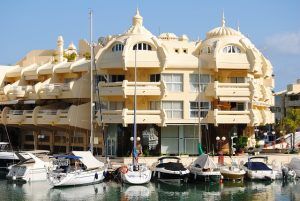 Source: Pixabay
What to visit in Benalmadena
One of the great attractions of Benalmadena is the large number of leisure places that can be found. Next, we will name some of the places you can not miss during your stay in Benalmadena.
Tivoli World
Opened in 1972, this amusement park has been the scene of numerous artists and made children's happy for almost four decades.
Selwo Marina
In this park, you can enjoy the most diverse marine fauna, from seals to dolphins.
Car cable of Benalmadena
A good way to see the city and enjoy the views of the sea is by climbing the Benalmadena cable car and reaching its highest peak.
Sealife
The emblematic Sealife is a beautiful aquarium located in Puerto Marina.
Buddhist temple of Benalmadena
Opened in 2003, this monument was erected in honour of peace and prosperity.
Parque de la Paloma
Parque de la Paloma is a green space in the heart of Benalmadena. With a size of about 200,000 meters, it is located just a few meters from the beach.
Castle of El Bilbil
This curious Neo-Islamic style palace was built in 1927 by architect Enrique Atencia and is currently an icon of the Costa del Sol.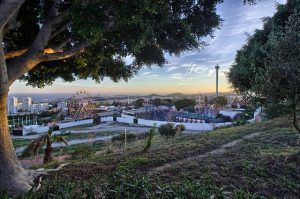 Source: Pixabay
We hope that these checklists for living in Benalmadena have been useful. If you want more information about what to see in Benalmádena you can take a look at our post about places to see in Benalmádena. If you need more information about Costa del Sol, we recommend you to read our article about 10 trendiest restaurants in Malaga.
Rate this article:
Did you like our post about Checklist for living in Benalmadena? Rate it!
---
Other posts you may like: