You may already know that Ronda is one of the most beautiful cities in Andalusia. Did you know that it was the land of bandits? Yes, just as you are reading! Today from Marbesol we want to tell you what to see in Ronda so you don't miss anything during your stay in this city in Malaga.
You should know that the city of Ronda in Malaga attracts visitors all year round and from all over the world. ✅🚘
What to do in Ronda, Malaga
Would you like to spend a night in the city? You can discover its great gastronomy and taste the famous wines of Ronda. Andalusia has a unique gastronomy and there are many typical dishes in Malaga. Even if we tell you about all the beautiful places, we recommend you to visit the local Tourist Office. It is located in the pedestrian area in front of the bullring.
There are many attractive places in this town, but there are some unmissable ones that you can't miss. Here we go! 🧐
PUENTE NUEVO, RONDA
If there is a quintessential photo of Ronda, it is of this bridge. This place is, without a doubt, the great icon of the city. We can assure you that it is very impressive even if you have seen thousands of photos.
For many it is the most beautiful place in the city. It is undoubtedly one of the things to see in Ronda. Built in the middle of the 18th century, it was the highest bridge in the world with 98 metres until 1839.
If you spend the night in Ronda we recommend that you also see it after dark, as it is beautifully illuminated. You should know that you can see it from all perspectives and you will spend a long time looking at it.
Are you a Netflix series lover? The New Bridge of Ronda appears in some scenes of the series Warrior Nun.
Next to the Puente Nuevo you can find a viewpoint with beautiful views.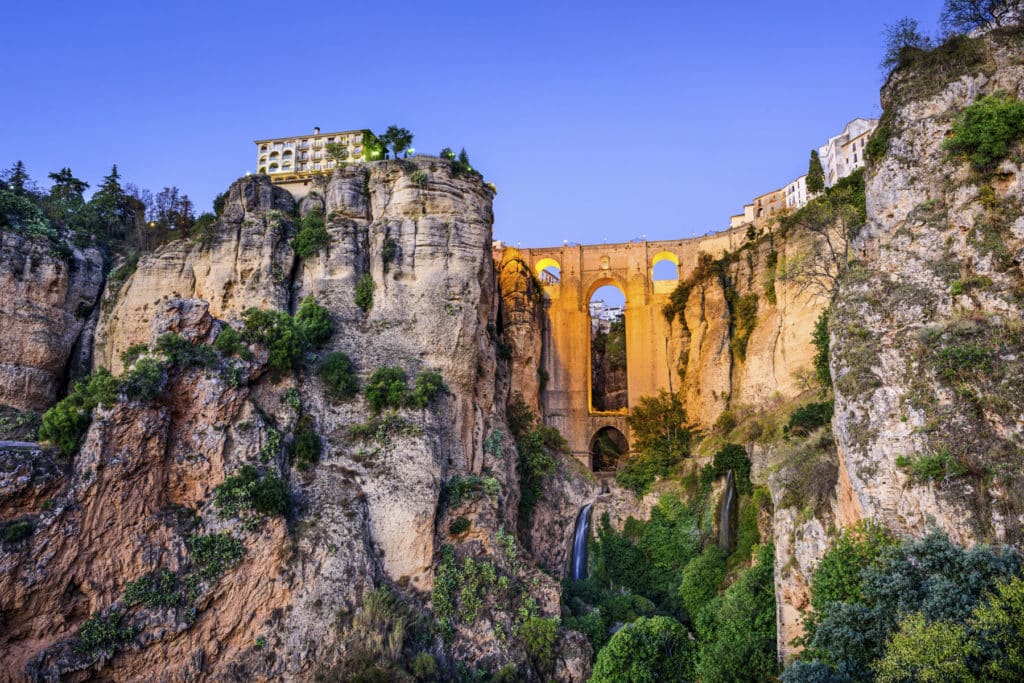 Escapada Rural
MIRADOR DE ALDEHUELA
Surely you have seen beautiful pictures from this place. We recommend you to take a walk through the Alameda del Tajo, here you will find the best viewpoint of Ronda. You will be able to see impressive views. As a curiosity we will tell you that it is known as "el balcón del coño" (the balcony of the pussy). They say that the first thing you say when you look out from this viewpoint in Ronda is "pussy, what a view".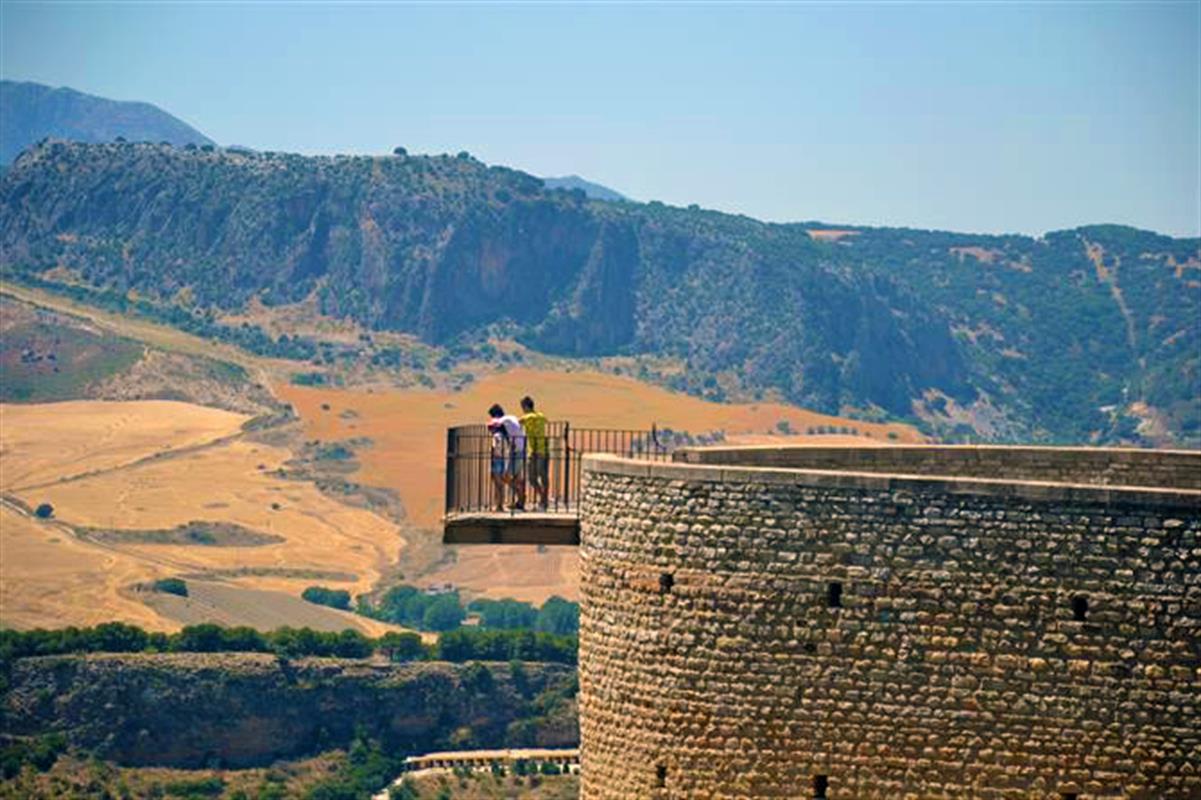 Vacaciones España
PALACE OF MONDRAGÓN, ANOTHER OF THE THINGS TO VISIT IN RONDA
Nowadays it houses a museum, but it was the residence of King Abbel Malik and the Nasrid governors, and after the reconquest, it housed the Catholic Monarchs during their stay in Ronda.
The exhibitions are not particularly striking, but we recommend a visit because the building itself is very worthwhile.
Opening hours: Monday to Friday from 10am to 6pm.
Saturdays, Sundays and public holidays from 10am to 3pm.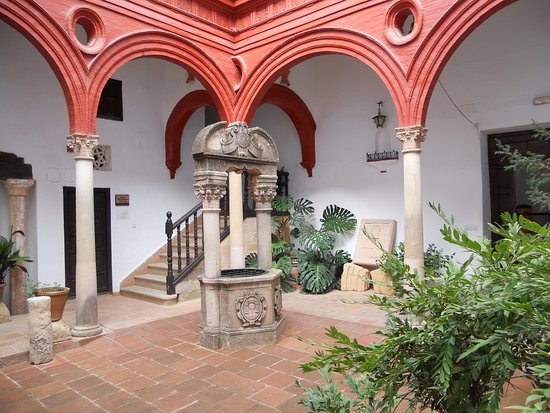 TripAdvisor
PLAZA DUQUESA DE PARCENT
This square is home to some of the city's most important buildings. You will be able to see the Church of Santa María la Mayor, the town hall and several convents such as the Clarisas or the Convent of Claridad. These are 3 attractions to visit in Ronda.
You should know that it is a pedestrian zone, as they have decided to prohibit parking. If you like photos you will get some nice pictures without traffic from this part of Ronda.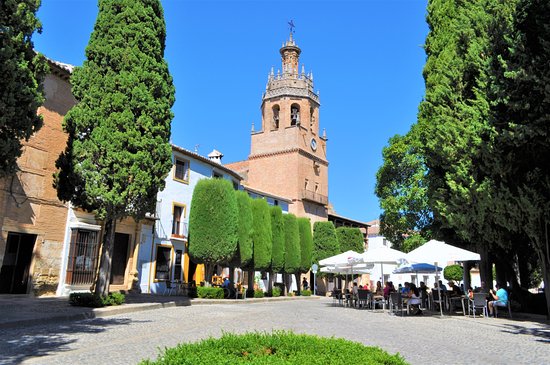 TripAdvisor
CASA DEL REY MORO [House of the Moorish King]
This is undoubtedly one of the things to see in Ronda. Crossing the Puente Nuevo bridge you will come to the Casa del Rey Moro (House of the Moorish King). A 17th century palace. At present it is not possible to go inside because it is under restoration, but it is worth enjoying its gardens and contemplating the water mine that the Arabs used to resist during the siege during the Christian reconquest.
The water mine is considered to be one of the main works of hydraulic engineering built during the period of the Nasrid Kingdom in the 14th century.
These gardens were designed by the landscape designer Forestier. Have you visited the Parquet María Luisa in Seville, Montjuic in Barcelona? This landscape designer was also responsible for these places.
The House of the Moorish King in Ronda has colourful tiles, beautiful fountains and from its terraces you can see the Tajo de Ronda.
Opening hours: October to April every day from 10 am to 8 pm.
May to September every day from 10 am to 9.30 pm.
Are you liking our post about what to see in Ronda? Let's continue!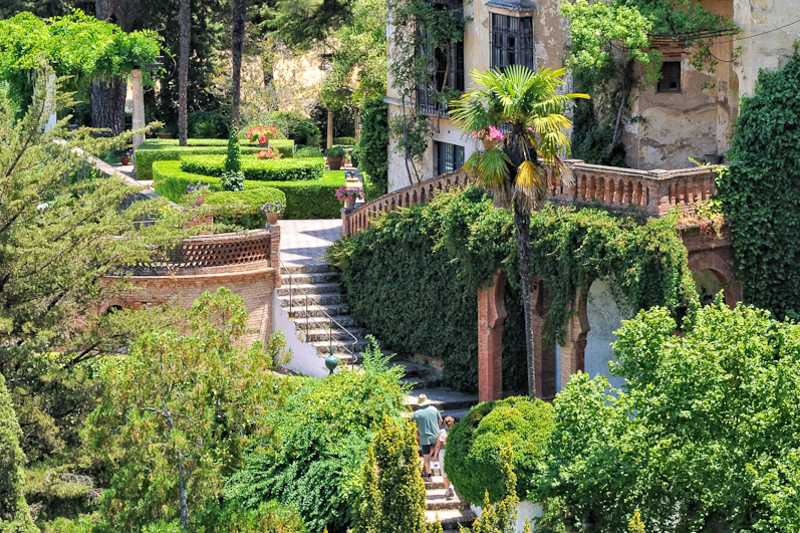 Guía del Jardín
BAÑOS ÁRABES
Did you know that these baths are the best preserved Arab baths in Europe? We can also assure you that they are some of the most beautiful. Built between the 13th and 14th centuries. Ancient Roman baths reused by the Muslims. This space was a centre for social gatherings.
During your visit you will be able to see several rooms. One for cold water baths, another for warm water and another for hot water, a boiler and the reception room. You can also watch a video explaining the history of the Arab baths of Ronda and the city.
Opening hours of the Arab baths of Ronda:
Monday to Friday: from 10 am to 6 pm.
Weekends and holidays from 10 am to 3 pm.
Next to these baths is the Arab Bridge, the oldest in the city.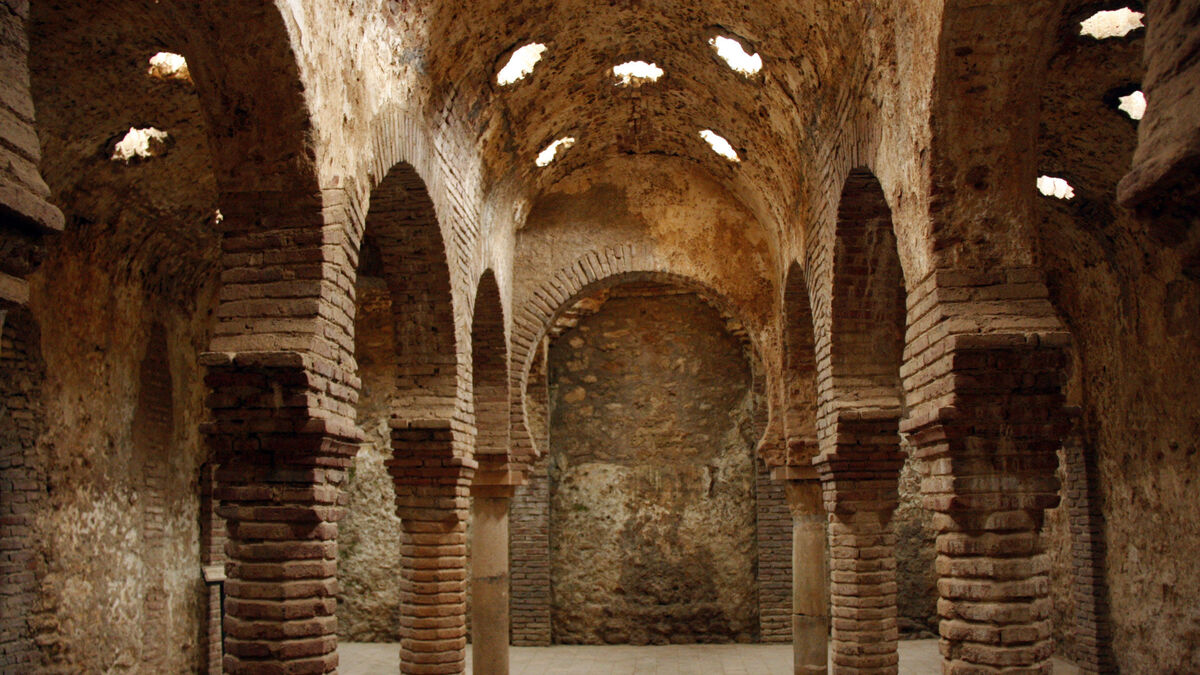 Málaga Hoy
CALLE LA BOLA
Another of the things to do in Ronda that you can't miss is the well-known street La Bola, although you should know that its real name is Carrera de Espinel. It became the centre of the city when the New Bridge was built and children started to play traditional games, among them the ball game, hence its name.
We tell you not to miss La Bola street because whatever the time of day, it is full of people. Full of bars, restaurants and shops. You will experience the true essence of the city. Without a doubt, it is the perfect place to spend a day in Ronda.
Vive Málaga
PUERTA DE CARLOS V, PUERTA DE LA CIJARA Y MURALLAS ISLÁMICAS
Ronda, like many towns in Andalusia, is a walled city. A strategic place for defence centuries ago. After visiting its famous baths, we recommend you to see the walls and go through the Cijara or Charles V gate. From the San Francisco neighbourhood, you will be able to see this walled complex particularly well.
Sierra de las Nieves
JARDINES DE CUENCA
This is definitely one of the things to see in Ronda. The Jardines de Cuenca are a set of terraces at different levels located near the old bridge and offering breathtaking views and perspectives of the gorge. You're sure to stop and take in the scenery for a few minutes!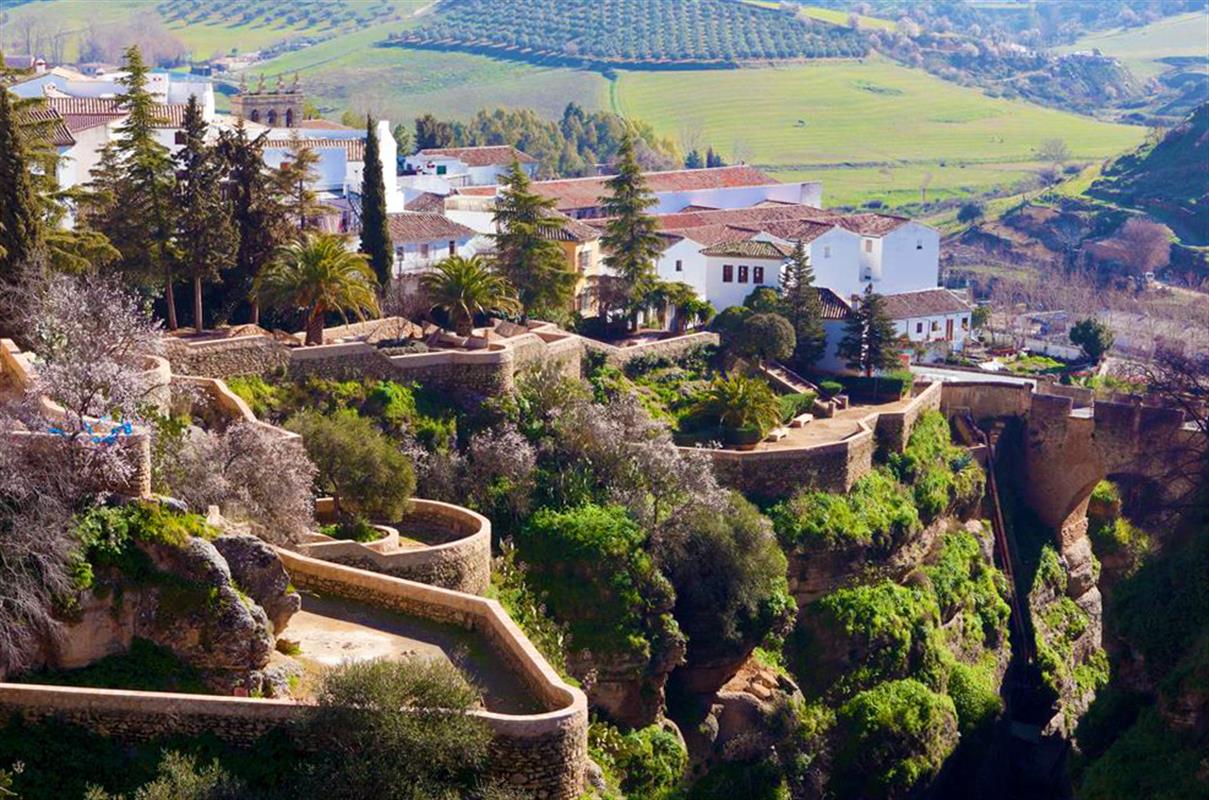 Vacaciones España
PLAZA DE TOROS
It is the oldest in Spain, and is usually one of the first places to visit in the city. It is considered one of the most beautiful in Spain. It was built in 1785.
Regardless of your attitude to bullfighting, there is a guided tour of the bullring in Ronda, where you will be told the story of various Ronda personalities related to the world of bullfighting.
Bullring opening hours: From 10 am to 8 pm every day.
Price: 8€.
You can visit all these places in just one day in Ronda. This will be enough time to explore the historic centre, which is the most striking feature of the city of Malaga.
If you decide to stay longer in Ronda, we recommend you some more places to visit. Keep reading!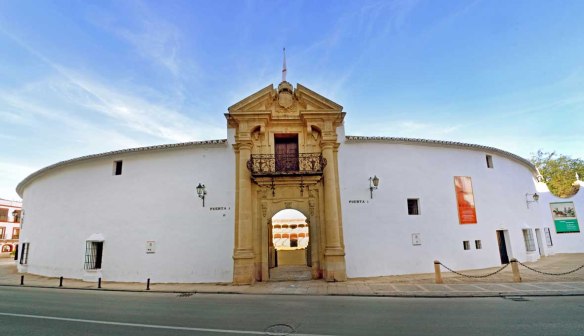 Plaza y Museo RMR
WHAT TO VISIT IN RONDA
MURAL DE LOS VIAJEROS ROMÁNTICOS
Do you like photos? The perfect place to have your photo taken in Ronda. This mural is made of tiles decorated with illustrations. It is only a few years old, but it has become one of the most visited spots in the city of Ronda.
What does the mural contain? This space pays homage to 17th and 19th century writers such as Lady Tenison or W. Irving. Beautiful phrases about the city.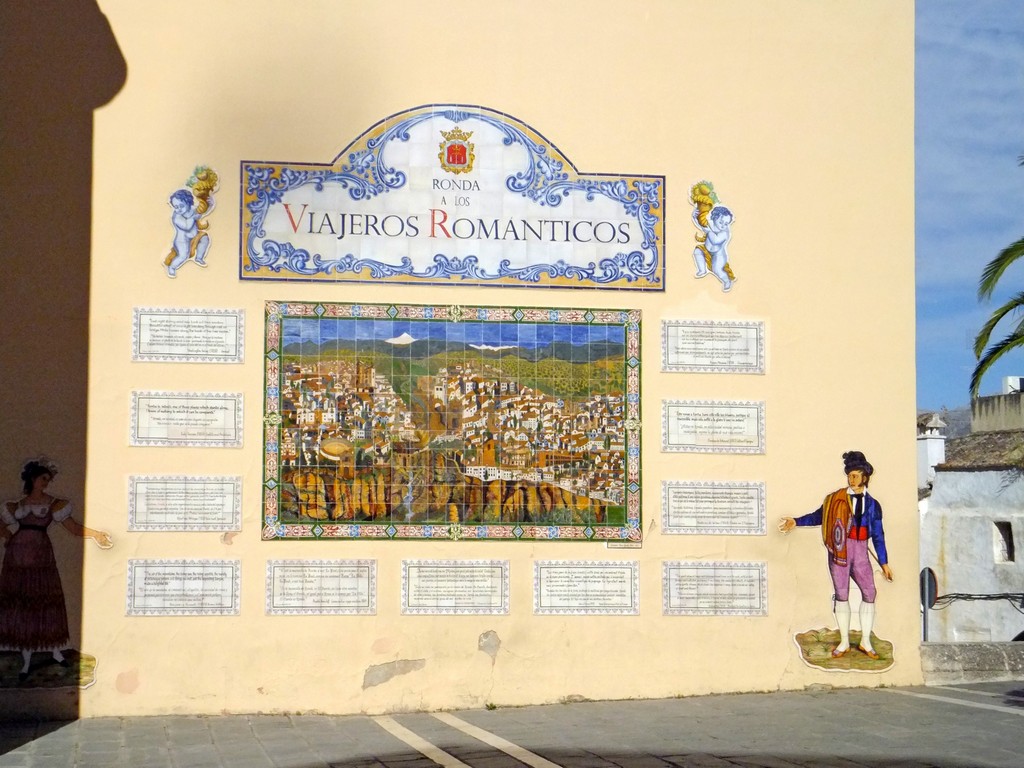 Wikiloc
MUSEO DEL BANDOLERO [Museum of the bandit]
It is the only one in Ronda with this theme and if you like the stories of bandits you will enjoy it very much. Here you can find many objects from the period and others that were used in the Curro Jiménez series. Its aim is to represent the history of the area. It was opened in 1995 and has an average of 51,000 visitors a year.
Opening hours: from 11 am to 8 pm
Price: 75€.
There are several other museums where you can enjoy the art of this land. If you feel like visiting La Casa Don Bosco, it has local and foreign works and you can stay there.
Museum entrance fee: 2.50€.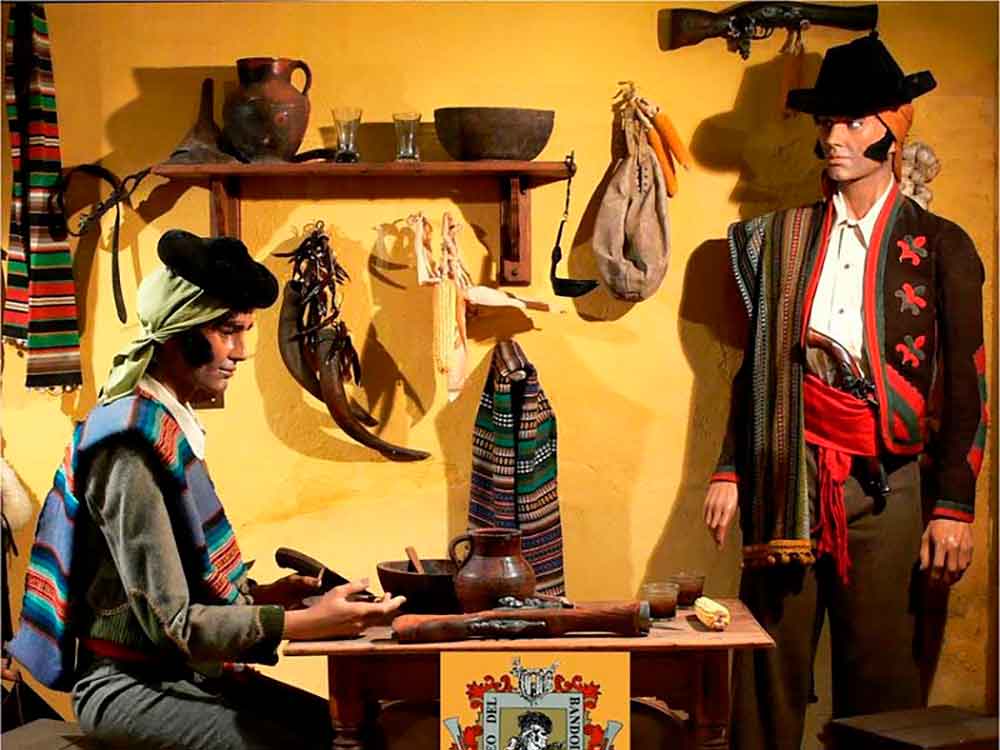 La Diversiva
RONDA WINES
You've probably already heard about the wines of Ronda, as this land has a great wine-producing tradition. You can find wines from Ronda with designation of origin and visit some of the wineries that are very close to the city.
We finish our post about what to visit in Ronda by recommending you to visit the Ruins of Acinipo.
RUINAS DE ACINIPO [Ruins of Acinipo]
It is an ancient Roman city just 18 kilometres from Ronda. Here you can see one of the oldest, best-preserved theatres in Spain, dating from the 1st century BC, and admission is free.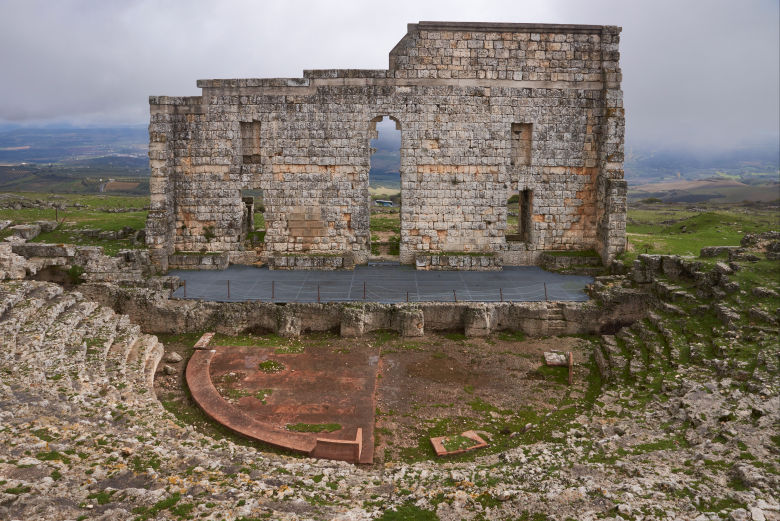 Civitatis
As you may have already noticed, there are many attractions and things to do in Ronda. Are you travelling from Malaga to discover this land? You can rent a car in Malaga and explore all these places at your own pace. If you want to know what to see in the rest of Andalusia, take a look at our post about what to see in Cadiz.
Did you like our post about what to visit in Ronda, rate it!
Did you like our post about Things to do in Ronda? Rate it!
---
Other posts you may like: