The Costa del Sol during the summer period offers a multitude of events for visitors and locals to enjoy the summer and the days off. Today from Marbesol we want to tell you about the best festivals in Malaga planned for this season.😉😉
10 Festivals in Malaga and its province for 2022
A total of 10 events have been programmed for the coming months which, without a doubt, are designed for all tastes and audiences.
After the pandemic and two years without any large-scale events, many people are looking forward to the summer season to experience live music.
Marenostrum Fuengirola
One of the best known festivals on the Costa del Sol. It was born in 2016 and has a line-up of top level artists. It started its edition last April with a concert by Fito & Fitipaldis. In July, Alejandro Sanz will perform and also artists such as Rosalia during its edition.
The festival runs from April to September and ticket prices vary depending on the artist and stage area.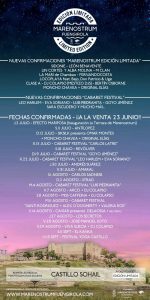 Starlite Marbella
It is one of the most prestigious festivals in Europe. The most important artists of the national and international scene gather every year in the city of Malaga to offer their performances. More than 50 concerts with artists such as Passenger, Estrella Morente or Maluma among many others.
It is held in June, July, August and September and, like Marenostrum, ticket prices depend on the stage area and the artist.
Brisa Festival
Held in La Malagueta bullring, this is its second edition. Brisa Festival has a varied line-up including artists such as Mikel Erentxun, Miss Caffeina and Dorian.
It takes place on 1, 2 and 3 July.
Prices:
General 3-day pass at €50.
Day pass for 1st and 2nd July at 39€.
Single day pass at 28€.
Weekend Beach Festival en Torre del Mar
Each year it has more and more followers and it is held in a unique place. This year is its seventh edition and will be held from 6 to 9 July.
More than 50 national and international artists such as Saurom or Ilario Alicante.
The ticket prices are very varied and offer a multitude of possibilities.
Prices:
General Season Ticket at 69€ plus booking fee.
General Season Ticket + camping at 89€ plus booking fee.
Youth Season Ticket at 69€ plus booking fee.
Youth Season Ticket plus camping at 89€ plus booking fee.
VIP Season Ticket at 100€ plus booking fee.
VIP Season Ticket + camping at 120€ plus booking fee.
Camping area supplement at 25€.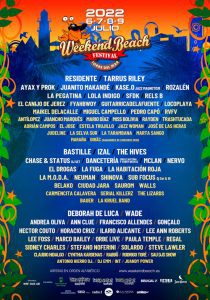 Puro Latino Fest Torremolinos
If your thing is Latin music, hip-hop or reggaeton, this is the festival for you. Puro Latino Fest will be held at the Esplanada del Recinto Ferial in Torremolinos on the 15th and 16th of July 2022. International artists such as Daddy Yankee, Ozuna or Bad Gyal.
In addition, the festival ticket from previous years is valid.
The prices are:
General Season Ticket at 69€ plus booking fee.
Gold Season Ticket at 105€ plus booking fee.
Platinum Season Ticket at 139€ plus booking fee.
Reggaeton Beach Festival Marbella
Another music festival with many fans. It is currently the biggest Urban Beach Festival in Europe. It is scheduled to take place on 6 and 7 August at the football stadium in San Pedro de Alcántara.
Prices:
General season ticket 60€.
Premium Season Ticket 85€.
Vip Season Ticket 200€.
Reduced Mobility Pass 60€.
Ultra Beach Fuengirola
Electronic music lover? You're in luck. A festival of electronic music and EDM. It will take place in the Castle Park and is also part of the Marenostrum Fuengirola programme.
A perfect location that is sure to be well attended.
Prices:
General admission 76,90€.
VIP ticket 150€.
Canela Party
A 3-day festival scheduled for 24-27 August 2022. Confirmed artists such as Carolina Durante, Battles or Preoccupations.
Prices:
General 3-day pass €72.
Thursday ticket 35€.
Friday ticket 35€.
Saturday ticket at 50€.
Friday and Saturday tickets at 65€.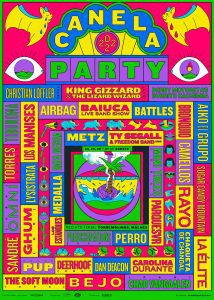 Andalucía Big Festival
It premieres this year and in its first edition welcomes more than 50 artists. Vetusta Morla, Muse or Nova Twins. It will take place on the Sacaba beach in Malaga. Almost at the end of summer, from 8 to 10 September.
Cala Mijas Festival
It is also in September. It will take place from the 1st to the 3rd in Mijas and is one of the most awaited events of the summer thanks to the artists on the bill. Nathy Peluso or Hot Chip for example.
Ticket prices are somewhat higher.
Prices:
3 days voucher 154€.
Pass + camping 179€.
One day ticket 77€.
As you can see on the Costa del Sol there is music for all tastes. It is a great attraction for many people. Also check out our post about what to see in Malaga in two days or the best Italian restaurants in Malaga.
Arriving in Malaga without a car? Hire your car and enjoy the festivals and activities all over the Costa del Sol at your own pace.